With over $2 billion monthly active users and 100 billion messages being sent every day – WhatsApp is by far the leading messaging platform on the market today.
Created back in 2009, WhatsApp was eventually bought out by Facebook in 2014. It beat Facebook messenger on the list of most popular chat apps, and has also earned the title of the 3rd most-used social media network in the world. WhatsApp is used by millions of businesses and individuals around the world for contacting friends, family and colleagues over long distances – and it's even open for government use as a way to reach their citizens. 
This year, WhatsApp has launched an entirely new community-building feature making it a great place to begin your community online – whether you're a beginner personal brand, or an established business. 
But how do you actually begin a community on WhatsApp, and how do you sustain it for the long term? This ultimate guide will help you get started. 
Want to step up your community? Integrate your WhatsApp chat today with Nas.io.
This article will cover: 
What a WhatsApp community is

How to set up your WhatsApp community

The role of a community manager on WhatsApp

WhatsApp vs. community-building platforms

The pros and cons of WhatsApp

Best practices for managing your WhatsApp community

Must-have tools for WhatsApp community managers
What is a WhatsApp Community?
WhatsApp was first built for a single purpose: communication. It helped people send texts, host audio or video calls, and let users contact others over long distances without a phone plan. 
But now, it's grown into something much more. 
WhatsApp is being used for larger group chats and hosting communities of like minded people, work teams, students and even is accessible through the web now.
Especially with the recent update of the "communities" feature, normal WhatsApp users are now able to build a separate page that they can host a series of different group chats all in one place. The new community feature offers WhatsApp video, audio and text chat plus: 
Larger file sharing (up to 2 gigs)

Emoji reactions

In-platform polls 

Business catalog (acts as a store-front to host up to 500 of your products if you're a business)

Multiple admins for your community 

Option to archive chats and save them for later

Invite by link or QR code

Send your live location to other users
How to set up a WhatsApp community
WhatsApp is simple and free to download for all users. Here's a simple, step-by-step guide to help you get started with the new community feature: 
Go to Google Play or the App Store to download the WhatsApp app

Create your own WhatsApp account

Once you're in, click the top left button with the people icon

Add the name of your community (keep it relevant and catchy!) 

Add the description of your community (more on this later) 

Create a profile picture with your brand or business logo

Add a branded cover photo

Create your group chats by clicking

More Options > Manage Groups > Create New Group 

Add in a subject line to name your new group (up to 25 characters)

Add a unique icon (optional) 

Click the green checkmark

…and start growing your community!
Begin by creating some basic groups to host different popular topics of discussion. Some base chats to consider are an "Announcements" group, maybe an "Inspo" group where people can post inspiration on certain topics…whatever you like! 
Name your different group chats clearly and according to the topic so it's easy for new members to navigate. And lastly: be sure to set your notifications sound as a different tone to your other notifications so you can easily stay on top of new activity in your community.
The role of a community manager on WhatsApp
The role of a community manager on WhatsApp is simple: manage your people and moderate discussions. There is no main feed like there is in Facebook groups so you'll have to be extra vigilant, and dive deep into all the different group chats to see what people have been up to.
As a community manager, your job is to: 
Give your members a safe space to post their thoughts

Offer support and guidance when needed

Represent your mission and convey your brand voice to members

Make sure people remain engaged 

Create learning content and update members on important information either about the community or within your given industry

Review analytics and adapt your strategy according to the audience

Create content and share content 

Moderate discussions and chime in occasionally

Make sure the space remains supportive and everyone is included
A WhatsApp community manager also has to be extra careful and look out for any harmful content that might spread through different group chats. Because of WhatsApp semi-private nature, it's easy for misinformation or unethical behavior to take place.
Because of this, your job as the community manager is to regularly remind people of the rules you have in place for the community. Share educational content, encourage others to speak up, and monitor discussions closely. 
WhatsApp vs. Community-building platforms 
So what's the difference between something like WhatsApp and a community-building platform like Discord? You may have already decided that WhatsApp is the platform you want to begin your community on – but let's get clear about the differences between WhatsApp and a real community-building platform so you can make the most educated decision: 
WhatsApp was established as a chat platform making it easy to hold long distance voice or video or text calls. It equates to other chat platforms like Messenger on Facebook – meaning it was built primarily for connecting people in chats. 
Their community feature is still relatively limited, and doesn't offer as many in-platform tools compared to what community-building platforms usually do. However, it's great for smaller communities, friends, or a team of people working together. 
Often, people will use these chats in addition to a community-focused platform that offers a wider range of options and tools to make a well-rounded community experience. 

Community-building platforms
On the other hand, community-focused platforms are built specifically for hosting and engaging with a community. 
This means they are often equipped with many more tools and features geared towards community managers and the role of admins. There are more third-party plugins available, larger group allowances, and help you host a more extensive and engaging experience.
The pros and cons of WhatsApp communities
Pros:
Free usage –

 WhatsApp is free for everybody to use, and even their community feature is free for use. 

Organized Chats –

WhatsApp allows you to host different groups that are similar to having channels on Discord. This lets you host different subjects of discussion in different chats, meaning it's more organized and there's more opportunity for deeper discussions.

Easy to navigate –

WhatsApp offers a search function that lets you search through discussions, documents and members in the community. This makes it much easier to find message threads that have been buried, or old content that you want to look back on. In addition to this, WhatsApp allows you to easily archive chats for future reference, and its overall interface is very simple to use.

Accessible –

WhatsApp is available for use in 180 different countries, and all you need for it to work is a solid wifi connection. Not only this, but it offers accessibility settings so you can adjust font and language if needed. 
Cons:
Lacks community-building features

– As mentioned earlier, there are very limited community-building features in WhatsApp. Aside from organizing your channels, providing slight branding through a cover image and profile picture, personalization is limited, security is limited, and the features aren't optimized for hosting and growing a large community. There are some third-party add-ons you can get, but again, they are more limited than other community-building platforms.

Small member limit –

You are only allowed to host up to 1024 people in a community on WhatsApp, and video calls are limited to 32 people at a time. You are also limited to how many group chats you can create at 50, and is therefore only useful for smaller communities.

Concern over misinformation and privacy –

Similar to Discord, WhatsApp is another free, semi-private platform that allows larger groups of people to collaborate online without much security or moderation. This makes it easier for people to spread hate, problematic content, misinformation, and for data privacy – especially since a large portion of users use it as their daily text messaging platform.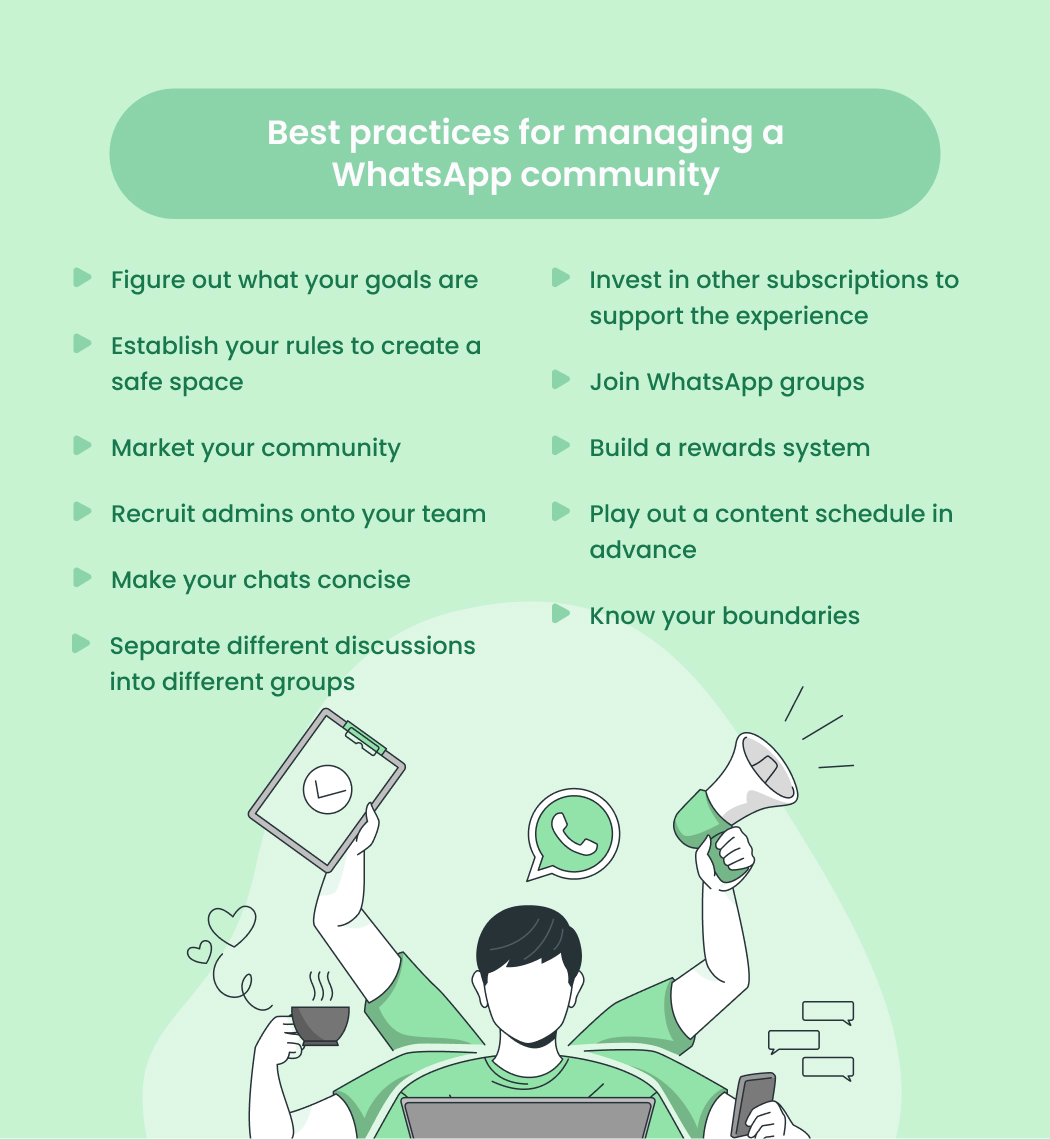 1. Figure out what your goals are
WhatsApp is great for all kinds of different communities or groups – and great to market or build a community around your business' products. 
But before you begin your community, you should have a solid and clear "why" behind why you're beginning this community, and why WhatsApp is the best option for you. 
Why did you choose WhatsApp? What's the goal for your community? How is it going to help you achieve your goals? What do you want this to become in the future? 
Be sure to get clear on what kind of community you are trying to start, and how you want to curate that experience. This is going to help you make decisions easier as you jump into managing hundreds of different people from around the world.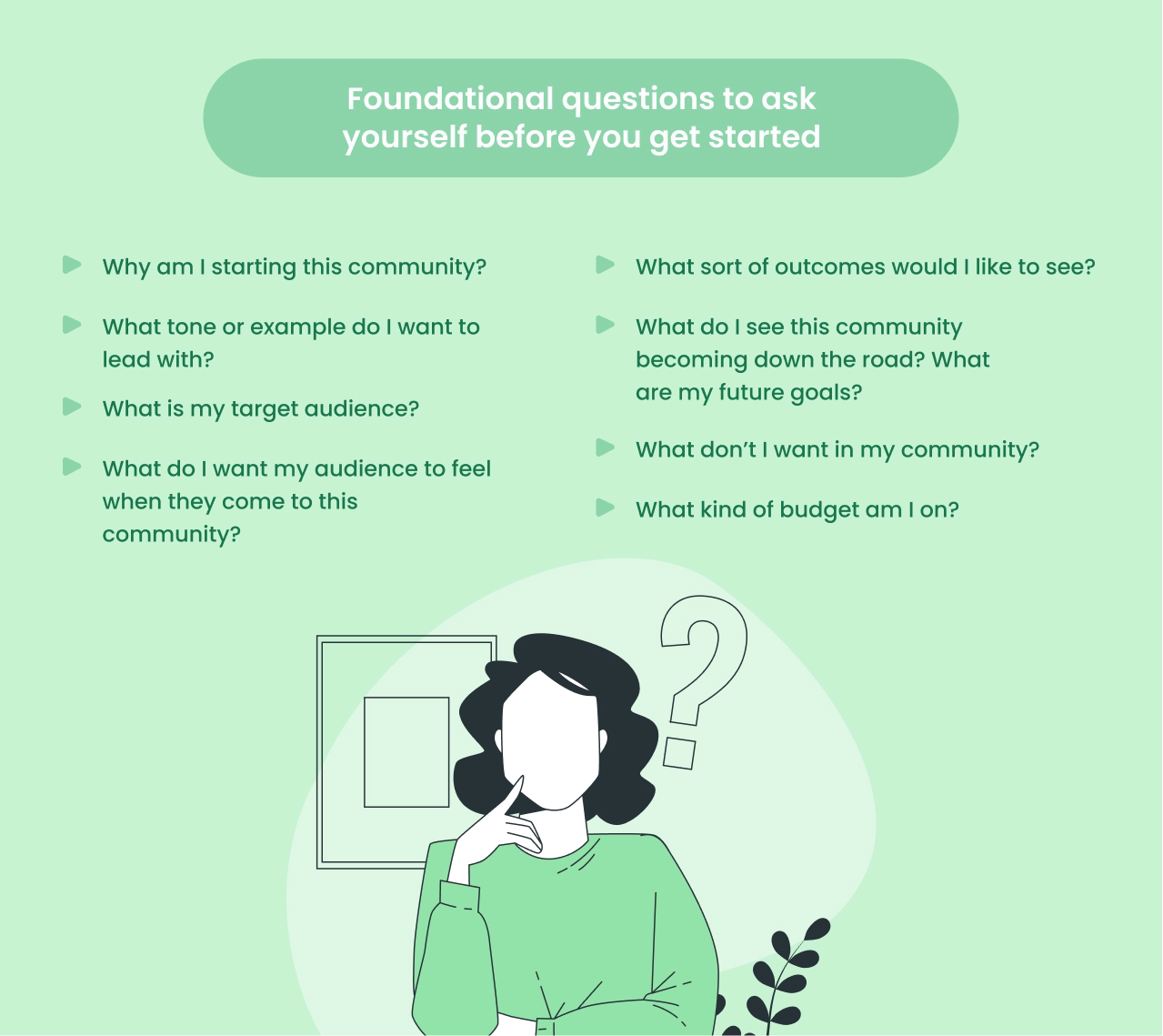 2. Establish your rules to create a safe space
Especially because of WhatsApps lack of security which has caused issues in the past, it's especially important to be vigilant about what goes on in your group – and to be extra adamant on the rules and behavior you expect everybody to adhere to.
So, be sure to keep your list of rules and expectations right in the description of your community so they're accessible and visible to all people at all times.
Be sure to also update and reiterate these rules and expectations often on your "Announcements" chat so people are regularly reminded, and new members are kept up to date. Some important ones to include are: 
Remain respectful to all your fellow members

Be supportive and cheer each other on

DM community moderators if you witness any harmful behavior

Keep your content friendly 

No hate speech allowed

Use the "reply" button to continue a conversation in a separate thread (to keep the conversation organized and make sure everyone has a chance to participate)
And remember: as you do this, make sure to use a positive tone. After all, your main goal is to make sure everyone has a good time in your community!
In addition to this, be sure to keep your chat safe and secure by not sharing your link, and making sure your group is set on Private. If you happen to run into any problems, you can simply remove people through your admin tools, or you contact WhatsApp admins if you need extra support.
3. Market your community
Once you've created your community – it's time to grow your member list! 
Take to social media and use other methods of contact you have with friends, peers and other people in the industry to let them know you're hosting a community. 
When marketing your community, make sure to highlight what's unique about your community, what they can expect when joining, and offer them something free as an incentive (also called a "lead magnet"). 
4. Recruit admins onto your team
Running a community by yourself is hard – especially once you hit a certain number of members. Start recruiting volunteers through social media, or, even better: 
Recruit people from your most-active members lists.
After all, these people are familiar with the community, know what the experience is like from a user perspective, they know about the space and they are clearly invested. They would make perfect allies to create an even better community experience going forward.
Once you recruit admins, give them admin access and delegate tools and responsibilities. It's best to assign each admin a specific group chat to help narrow your focus, and make sure every group chat has someone managing it at all times.
When assigning chats to your new admins, assign them according to their strengths and areas of interest. And don't forget to reward them too! Offer feedback regularly, support your team of volunteers, cheer them on – and let them know you're grateful for their help. 
A little gratitude towards your team can go a long way in improving morale for the whole community.
5. Make your chats concise
WhatsApp is like a texting platform – not a blog. 
Don't write novels when you make a post. Instead, stay concise and focused. Practice your short writing by reviewing some Twitter posts and see how other people have successfully gotten their message across in 280 characters or less. It is possible! And it will help keep people engaged, and reading until the end.
When writing chats, also remember to remain polite and use a professional and supportive tone for all of your communication (establish this amongst your admin team too!). 
Remember: however you choose to communicate as the manager sets the tone for all other communication in the group. So choose wisely! 
6. Separate different discussions under different group chats 
Especially as your community grows in numbers, it's important to separate different topics of discussion under different groups. This personalizes and organizes the experience so people can get the most value out of your community – with much less work involved.
Create a separate chat for announcements, one for memes, inspiration, and anything else that's relevant to your people. But make sure not to have too many groups up front, and make sure each group has a purpose. This will make sure it's easy for new members to navigate and engage.
7. Invest in other subscriptions to enhance the experience
While WhatsApp is great to help you connect and discuss with others, you might want to invest in other subscriptions to help enhance the community experience. For example, invest in a video conferencing software like Zoom, or use a third-party platform like Google Meets to host your video chats. 
You could even invest in something like Milanote or use a platform like Notion to store visual content, organize your schedule, create documents and share resources so that they're all housed in one place in an accessible way. This expands the community experience and makes it more fruitful for your members.
8. Join WhatsApp groups 
The best way to start your community is by joining communities. 
Join a WhatsApp group or two to see what the experience is like and see how you can copy or improve elements in your own community. Even ask the community for suggestions if it seems relevant. After all…that's what communities are for!
9. Build a rewards systems
If you're noticing a lack of engagement at any point, offering some sort of rewards system could do the trick. Rewards inspire people to act and engage, and especially if the reward is fruitful and attractive, it will keep people coming back, and speaking highly of the experience.
Not only this – but it lifts morale! Consider doing something like this within your private admin group as well to keep your volunteers performing at their best, and keep their spirits high. After all, happy moderators are happy members!
10. Plan out a content schedule
The most important part of hosting a community is creating content and creating unique experiences. This could include anything from hosting live videos, AMAs (ask me anything sessions) or sharing news stories every week.
Work with your admins to come up with a solid content schedule in advance so you always have value going out. Keep it fresh and don't be too repetitive – you don't want your content to become redundant or boring. 
Use planning tools and make it a habit to constantly keep up with content trends and engagement tools that might enhance your experience. And if you're not sure what to do next…ask your audience! Do a poll or ask for feedback in a Google form. Involving your audience is key in creating a helpful experience and making your members feel connected and valued. 
With that said – don't pop up and bother your community too much. Let your audience have the space to speak without being overly guided by your influence, or topics of discussion. Let them – in fact, encourage them – to start their own conversations and share their own content. 
After all, this is what separates a social media page from a community!
11. Know your boundaries
WhatsApp is most likely also used as a personal messaging platform for many of your members, and many of your future members.
So, just as you don't email people without them agreeing to give it to you, don't go searching for people's numbers and reaching out to them personally to see if they will join your group or do something for you. Don't scour other WhatsApp groups to recruit people. 
It's important to know your boundaries, and simply make your group available for people to join, and advertise it ethically. If people reach out to you, then feel free to share the link! 
Not interfering within the community or with other potential members is key in building trust, and making members feel free to express themselves and engage within the group.
Must-have tools for WhatsApp community managers
While WhatsApp has some built-in tools like polls and file-sharing, here are some more tools that are bound to help you get the most out of hosting your community on WhatsApp: 
Zoom

–This is going to let you host more than just 32 people in a call, and allows you much more freedom to create an experience when you host videos. You can use virtual backgrounds, create cool effects, share your screens and even write on your screen to help people learn and remain engaged. There's both free and premium versions available.

Analytics tools

–There are a bunch of different WhatsApp add-ons you can get, from WhatsAnalyzer to ChatsAnalyzer, that will help you visualize data and get some basic analytics. These will help you get an idea of the most used words in your chat, which groups are most active, emojis that are most popular, and more to help you use real-time data to improve your community experience.

WhatsAuto –

This plugin will allow you to use automatic chat bots that will respond with a pre-curated message when you're not available, or post auto responses for common questions to reduce your need to re-write your answers. There are both free and premium options available (and you can also access analytics through this tool!).

Content planning

– Invest in a content planning tool like Asana or Notion (both offer free options). This will help you and your team of admins create assigned tasks, and organize your experience. Notion in particular offers more customization, and lets you create multiple calendars, build graphs, documents, mood boards and more all in one place so that you can use it to build content strategies and workflows. You can also make certain documents public so you can share them with your members too. Asana, on the other hand, is a more task-oriented platform.
Build a community with Nas.io
Nas.io integrates your WhatsApp chats with an all-in-one community-building platform. Here, you can build a customized space for FREE where you can create opportunities for growth, connection and learning.
We are a platform directly committed to building functional, collaborative communities online for your brand. Whether your want to start a community for fashion, sports, writing, Web3, NFTs – anything – this is the place to start.
Reach out to our incredible support team and learn how to start your own community today. We'll be with you each step of the way.