Online communities are becoming a great way to build brand awareness – but also for diversifying revenue. So if you've been looking for ways to get the most out of your community and turn it into something sustainable, here are 10 ways you can monetize your community no matter the size. 
Start your community today for free with Nas.io.
---
Now, you might be a bit hesitant to monetize your community – after all, shouldn't your community be about providing value first?
The answer is yes! But in fact, monetizing the experience in a few ways is a great strategy to help you provide even more value going forward.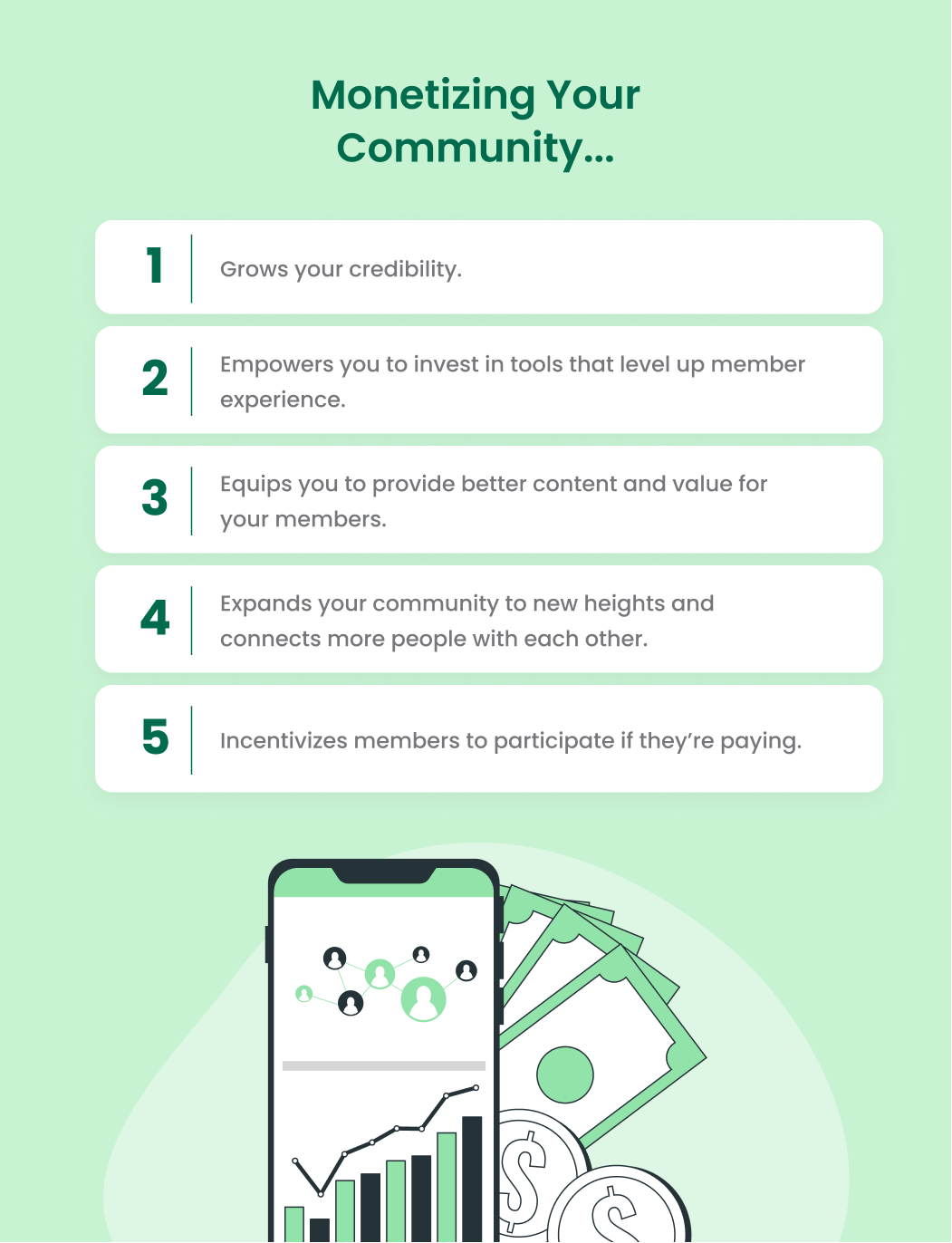 Why should you monetize your community?
As a creator, you need to be able to support yourself in order to devote more time and resources towards the experience. This is why monetizing is a great idea for your community. 
Not only is it great for you as a creator to have a chance at earning a living doing what you love and diversifying your revenue streams – but monetizing your community also allows you to put more into it. 
Here are a few main benefits that come from monetizing your community: 
It grows your credibility as a brand 

You can invest in more tools that will improve the overall experience

You can spend more time producing content and value for your members 

You can afford to move your community to a more community-focused platform that can house more people, be more efficient, and is more secure than something free like Facebook or WhatsApp groups

You can grow your community to new heights and connect more people with each other
In short: the possibilities become even more endless when you can invest some money into your community experience. 
10 ways to monetize your community for beginners
Sell courses
A very common way to monetize a community experience is to create educational courses around something your community would find interesting. 
Whether it be a class supporting them in creating their own content, building a community of their own, business, Web3 – anything – a course is a perfect way to earn some income from your community experience.
On Nas.io for example, you can upload class videos to a library and offer them to your community as an exclusive, extra experience. People will pay for access and knowledge – so you may as well share what you have to teach! 
Create ebooks 
If you're looking for a less tech-intensive way of providing more learning material outside of producing class videos – ebooks are a great alternative! 
You can create downloadable ebooks from how-to guides, to informational texts based on your community's interests, and then offer it as an extra extension of your community experience for people who would like it. 
All you have to do to create one is use a simple, free platform like Canva and design it with simple tools and pre-made designs. Depending on the length and depth of your ebook, you can charge upwards of USD $20 each! 
Host paid events
While you might host some free events in your community already, consider offering some paid events as well. The events can be around anything you'd like. From hands-on workshops, to public events with expert panelists – offer something exclusive in these events that would be worth the price.
There are plenty of online events services that you can use like Eventbrite, Tix.com or Cvent. While these platforms usually take a percentage to run your ticket sales for you, the convenience of platforms like this are totally worth it when you're trying to host paid events.
It will distribute tickets and process payments to help make it much easier to monetize your community. 
With that said, some community-building platforms will already have events services integrated into the platform to make it easier to manage. 
Membership subscription
One of the main ways that creators monetize their communities is by turning them into membership subscriptions.
This means members will pay a monthly fee to get access to your community experience. The price range of access to communities will vary on the type and what value is offered within this community at no extra cost. Do a cost analysis for the experience and take into account how much money your members have to spend and find what works for you. 
Many community-building platforms will offer a pay-gating feature that will process payments for you, handle subscription fees and more. Nas.io offers this option, even for free communities, and only takes a small percentage once you start earning an income. 
However, this gets more difficult if you're using a platform like Discord or Facebook. But some will gate access to their communities through requiring each member to hold a token or membership, or purchase a product or NFT to get the invite link to the community platform. 
Newsletters 
Writing community newsletters is also a way to monetize your audience's involvement in your community. You can offer free value through these newsletters, use this as a platform to promote and make sales on your products – or even monetize access to the newsletter itself. 
If you monetize the newsletter itself, make sure your newsletter experience offers exclusive content and value to make it worth the price you're charging. 
Ask for donations
Now you might be thinking asking for money is "impolite" or asking for donations is usually unsuccessful unless it's for a worthy cause. But asking for donations is another common way that creators and community managers will monetize their platforms – and many find success with it!
You'd be surprised at how many people are usually willing to support you and your content. They want you to keep making it and believe in your mission, and will therefore help you continue working on it.
Sell discounted products
Whenever you launch a new product or service as a brand, make sure to give discounts and early-access to your community before anyone else. After all, they're the ones supporting you and your mission – doing this shows them that you value them as people and appreciate their participation in your community! 
This is a great way to also get sales because you're presenting your work in front of people who believe in you, support you, and clearly see value in your perspectives and interests. 
Not only this, but giving limited-time discounts and offering early access to your target audience encourages them to make the purchase as it gives them a specific window of action. It's a common sales tactic that many businesses use, and can be just as effective in your community.
Host coaching calls
Provide your members with one-on-one coaching sessions as an extension of your community experience. Whatever industry you're in, you can offer paid, hourly coaching calls to help guide your members through their journey on a more personal, one-to-one basis. 
Fees for these calls tend to vary depending on the industry, but some experienced coaches can charge upwards of USD $200 an hour! 
Use affiliate marketing
Affiliate marketing is another common way that influencers and creators make some extra money in their field – and it works for community managers too!  
Affiliate marketing simply means you become an "affiliate" of a brand and get a customized link that you can then share with your members. Then, if someone purchases that brand's product through your personal link, you get a commission of the sale. 
If you tend to recommend products a lot in your community, instead of sharing the link to the product directly, share your affiliate link so you can use that extra little cash to keep the community operating at its best. 
Community merchandise 
Plenty of influencers also monetize their followings by providing branded merch. While you might want to give your members a free t-shirt or something as part of joining your community, you can create other, extra merch like hoodies or sweatpants, that people can buy if they want to really invest in your brand. 
This is a great way to create a stronger sense of community and feeling of belonging for your members while also allowing you to turn this community into a side hustle. The merch can have your customized logo, common sayings in your community, or inside jokes that only your members would understand to heighten that level of exclusivity and belonging. 
After all, people want to feel part of something bigger. And that's why branded merchandise from influencers always tends to sell out faster than most other clothing created by corporations. 
In order to begin your own merch line, you first want to start with the design, decide on what type of clothes you want to create and then find a manufacturer. 
It's important to keep in mind that when pricing any of your products or services in your community, don't make it so high that your community can't afford it or it becomes unreasonable for the value you're giving. 
Make sure it's something affordable that people will truly benefit from, and something that will keep the authenticity and trust of your brand and community experience at an all-time high.
After all – monetizing your community isn't worth losing true connections and value.
Start a community of your own for free at Nas.io
If you're ready to start monetizing your community – no matter the size – Nas.io is the perfect place to begin. 
With Nas.io. You can build an improved, customized community space at no cost. You can create opportunities for growth, connection and learning – and our series of user-friendly tools will help you monetize your community experience so you can keep it running.
We are a platform directly committed to building functional, collaborative communities online for your brand. Whether your want to start a community for fashion, sports, writing, Web3, NFTs – anything – this is the place to do it. 
Reach out to our incredible support team and learn how to start your own community today. We'll be with you to help from Day 1.