Curious about the benefits and features of Nas.io vs Kajabi? We have all the info you need right here. 
Hosting your community can be overwhelming, especially with so many options available to you. We want you to find the best place to host yours, so we've looked at the most popular platforms and have consolidated all the information on their features and drawbacks right here for you to see.
Community management comes with its challenges, including but not limited to: member engagement, audience reach, clunky tools and integration, tech issues, platform limitations, impossible migration, and communication problems. 
Another problem is that many of the apps and tools available to community managers are actually designed for big businesses and brands. Even if your community hosts tens of thousands of members, tech that's designed to reach 10x more people is not going to be designed with your needs in mind.
And, while platforms have tried to accommodate this by introducing ways to communicate with your members on the platform or via email, the reality is you're only reaching a fraction of your user base that way, effectively cutting your community in half. 
So, to help you get a better idea of what's one offer, let's take a look at Nas.io and Kajabi.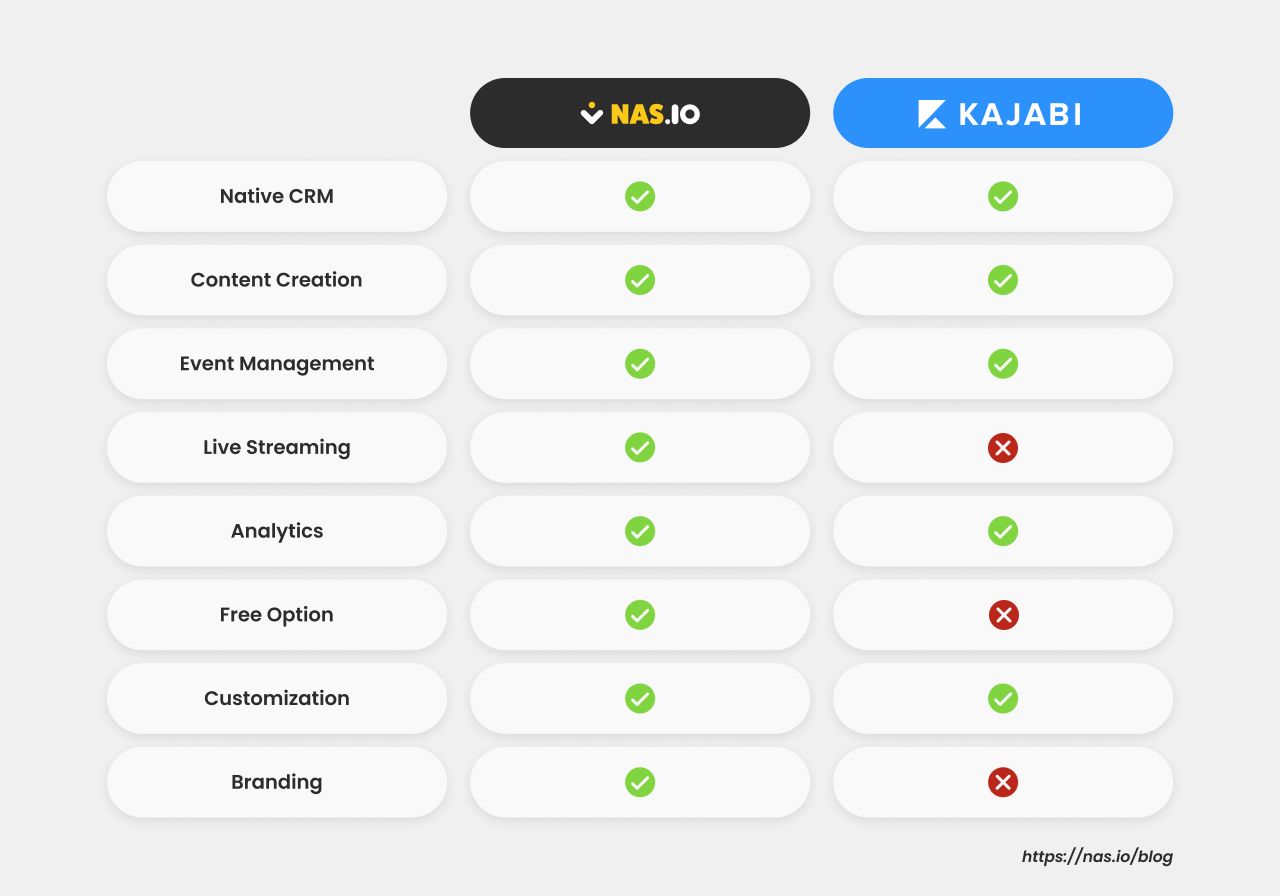 Nas.io 
Nas.io is a platform designed host and manage communities. Many of the people behind Nas.io are content creators and understand what it means to have an online community that thrives, along with the barriers community founders face when trying to build one. 
We've been working in social media for a long time, and have discovered that the best part of social media are the communities that have been formed because of it. People are social and want to connect with others… And social media has been connecting people from all over the world since its invention. We want to contribute to this incredible space, and nas.io is how we're doing it.
We're also giving you the tools to create your own community right here on nas.io. We've pooled all our resources to give you the best community experience, all while drawing from the best features you want to use when connecting with others online.
If you already host your own community, we have something for you too! Our community tools integrate seamlessly with other platforms like Discord, so your community doesn't doesn't have to go anywhere… But your community experience will be made even better with what we offer
Magic Reach
One of the struggles of owning a community is not being able to reach community members. It's possible for your reach to be limited by as much as 60%… Meaning your community is significantly smaller in practice. It affects your engagement and retention numbers, killing your community.
This happens for a number of reasons: messages get buried, people don't read DMs, the algorithm means your post doesn't make it to feeds. 
One way to overcome this is through CRM technology, where email comes into play. While this is a step in the right direction, it's also not a perfect solution because mailing software like Mailchimp is designed for massive businesses and brands, and has many tools and features that you just don't need for community management. 
Not only that, it's expensive tech! You'll be paying a lot of money for software with that isn't designed for you, and doesn't work for what you need. Email is also not a perfect fail-safe because emails can end up in spam folders or just left unread, leaving you back where you started. 
And so we at Nas.io have developed a nifty tool called Magic Reach. This is the CRM of your dreams, and will transform the way you interact with your community. Like the rest of Nas.io, it seamlessly integrates with other community platforms like Discord. 
Magic Reach allows you to export your community member information, so it'll never be lost. You'll never lose your community, no matter what happens to the platform. 
Why It's Like Magic
Magic Reach allows you to send emails to your community. If your community members don't open the email, it'll then send a text message and a DM to the member to ensure your message is read. 
But the best part of Magic Reach is that it's designed for creators and communities. Gone are the complicated analytics, confusing terms, and weird tech that you're too scared to touch. In its place is an intuitive, easy to use CRM tool that overcomes the algorithm and increases your reach.
And it's completely free — there are no hidden costs attached, no matter how big your email list or community. You'll be saving hundreds of dollars and hours of time, all while connecting with your community like never before. 
Kajabi
Kajabi is a tool that does facilitate communities, but the platform's focus is on course building for entrepreneurs and creators. Kajabi helps people grow their audience outside of their usual growth channels. To that end, the services they offer include website creation, pre-made and automated funnels, landing page design, email marketing, and analytics. 
Kajabi is a paid service and doesn't offer a free model. They offer a free trial for 14 days, after which you have to pay a fee to use their product. They have various tiers with different services and features for each.
Set-Up
Nas.io
Setting up your community is easier than ever with Nas.io. We've taken away the guesswork and tech, leaving you with the fun stuff. Brand your community however you like, give it a name, and you're good to go! You can even customize your URL at no additional cost so that you can take into account SEO, reach, and aesthetics. 
If you run into any problems, or need a specific tech requirement, our support team is on hand to assist you with anything. 
Kajabi
Kajalbi's made building courses, web pages, and email marketing easy with their pre-made templates and user-friendly tools. It allows customization of URLs and your site for branding. This is only available under a paid subscription.
Content Creation
Nas.io
Creating courses is easier than ever before with our tools. All you have to do is upload your video on our platform, name it, and it's done! You can also monetize your courses and market it to your community. This is an effective source of revenue for many content creators, all while providing education and value to your community. 
Kajabi
As a platform dedicated to hosting courses created by independent entrepreneurs and content creators, Kajalbi's course building tools are extensive. Those who want to create a course can choose from various plans, from mini-courses to signature programs. Kajalbi also has marketing tools aimed at equipping you to market your course.
Live Events and Streaming 
Nas.io
Nas.io integrates with other platforms to provide event management and live streaming. You don't need an account with these platforms — all you need to do is login to your Nas.io account and launch the app from our platform. 
This means that events you plan aren't only organized in Nas.io. Invitations will be sent to community members through Magic Reach, and will be registered on apps like Google Calendar. 
There's also no limit to the number of people you can invite to a live online event. Whether it's 10 or 10,000, everyone will be able to attend your event. 
Kajabi
While Kajabi allows you to create events, it only creates the invitation for webinars. Their event function is primarily for page launches and announcements. 
Analytics 
Nas.io
Take the guesswork out of analyzing your data with Nas.io's comprehensive, intuitive data reports based on your analytics. You don't have to guess what numbers are good or bad, or which ones you need to improve on because Nas.io has that covered. 
Immediately get an overview of the health of your community and get suggestions of ways to improve weaker areas through Magic Reach and engagement tools. 
Kajabi
Kajabi offers analytic reports that track student progress, revenue, and page visits, amongst others. These metrics are centered around product, rather than the health of your community.