In 2022, Facebook reportedly has over 2.91 billion active users. Even though millennial and Gen Z'ers often talk down to the platform – it somehow still remains the most popular. And while it's main function is being a message board of sorts to connect like-minded people with others, it also holds features for brands and influencers to host communities and grow a loyal, connected group of people online from all over the world. 
But how do you start a community on Facebook – let alone manage it for long-term success? We built an ultimate guide to get you started.
Want to step up your community experience? Integrate your Facebook chats with Nas.io today.
This ultimate article will cover: 
What are Facebook groups?

Facebook vs. Community-building platforms

The pros and cons of Facebook Groups

The role of a community manager on Facebook

Best practices for running a Facebook community

Must-have tools for Facebook community managers
What are Facebook groups?
While Facebook isn't built to be a proper community-building platform, it's become more and more focused on growing a sense of community between individuals with a Facebook profile, all around the world – and on all different topics. 
One of the ways Facebook has done this is through their native feature called "Groups" which lets anybody with an account begin a free community platform to bring their people together. 
You can find the Groups feature under Menu > Social > Groups and you begin one of your own for free in under two minutes. Different groups exist on Facebook for all sorts of things – from a community to buy and sell furniture, communities for gardeners, all the way to branded groups.
Groups turns into a space where you can invite people to join, upload content that is only accessible to members, and host events for your community.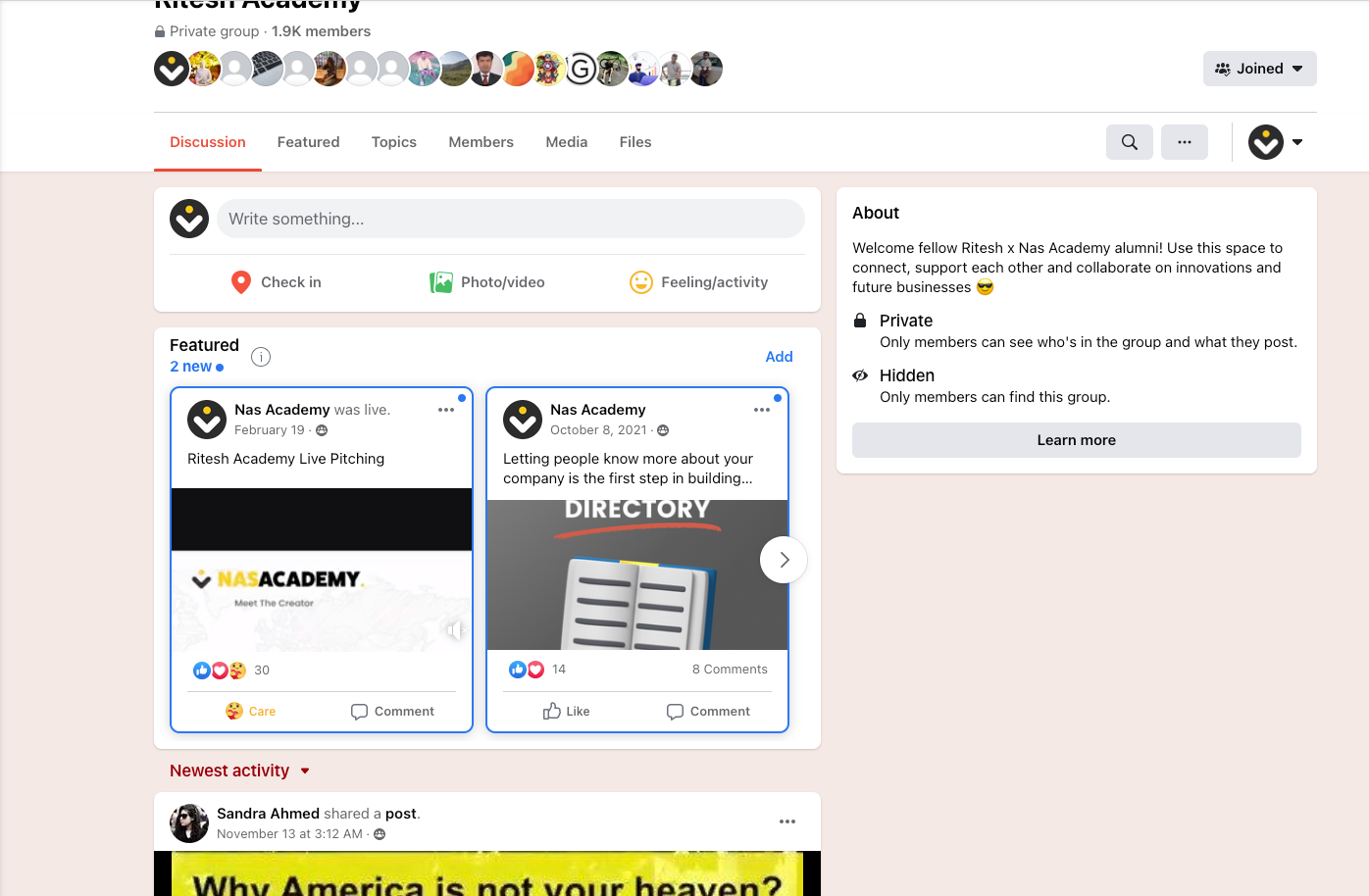 Once you begin a community, you become the manager. While you can relinquish tools and responsibilities to other members, you have full control as the creator to run your community however you wish. You can turn on notifications so that whenever anyone uploads something in your community, you get pinged. This way, you get the latest news and you don't have to just find it on your main Facebook news feed as you otherwise would. This helps turn Facebook into a more community-focused platform. 
In addition to this, the Messenger chat feature allows members to connect, call and video chat (although the quality isn't the best). This makes Facebook a simple, cheap and accessible way of beginning a community – however, features are limited and there are some drawbacks to beginning a community on Facebook compared to a real "community-building platform."
Facebook Groups vs. Community-building platforms 
While Facebook offers you the option to create a community experience through Groups and Messenger, it still remains a social media platform at heart. But what's the actual difference between the two? 
When you compare Facebook to platforms like Discord, Nas.io or Mighty Networks (pinned as full-on, community-building platforms) there are many things that differentiate them when it comes to being a community manager. A couple main ones being: 
Facebook prioritizes connection over community
On Facebook, each person has their own, curated profile that they upload on it as if it were a personal bulletin board open for the world to see. They also follow other people's boards.
Community-building platforms, on the other hand, are platforms specifically dedicated to building a community. It doesn't have the option to follow users in a social manner, and is more about initiating discussion, providing resources, helping and inspiring – and focused on one particular, unified goal.
Because Facebook is a social media platform, this means that it prioritizes social connections over community features. It's structured as a creator-follower relationship in many cases, rather than a many-to-many relationship as a community is meant to be. 
In short: Facebook's algorithm isn't built for optimal community experience – but rather for virality and keeping up with people you follow. 
For example, whenever people upload content or updates in Groups, these updates will show up in your newsfeed alongside every other person you follow – whether they be a long-lost relative or an ex. This means it's easy for those community updates to get buried, and they end up losing importance over a user's social media status. 
That's because Facebook is focused on giving the most relevant or trending information first – not promoting community. 

There are too many distractions and advertisements 
The fact that Facebook has targeted ads popping up everywhere, as well as multiple different uses – from connecting with friends, dating, to buying used furniture – this pulls away from it being a strictly, focused community-building platform. 
It makes it more difficult to engage and keep people focused and interacting with the community when other groups are clearly displayed on the left sidebar to distract them. There's a notification bar in the top pulling for attention, and messenger chats for other things popping up – a world of distractions is only a click away. And you know how distracted people get these days…
This alongside the vast amount of media from ads to videos on different topics competing for attention really pulls away from the unified goal and focus of the groups they visit on the platform.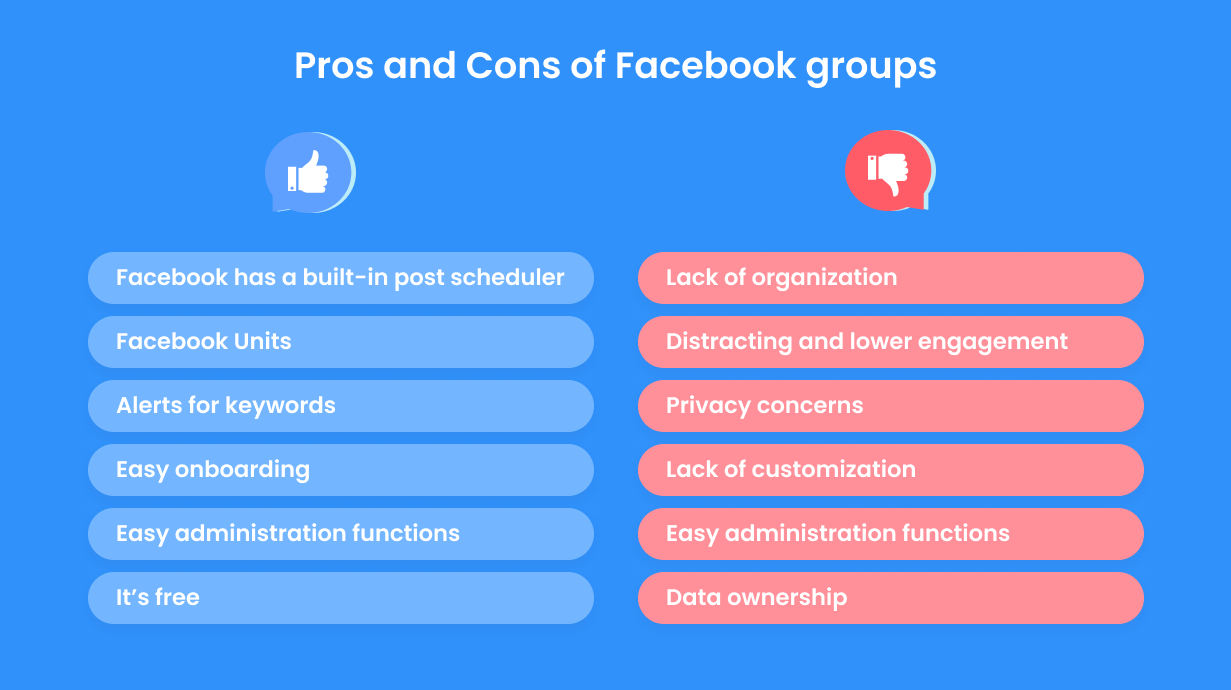 The role of a community manager on Facebook
As the creator of a Facebook group, you have a lot of different duties on your plate. You are the main admin – although you can add others later on to do similar tasks as you – you become the ultimate community manager of the group.
But what does a community manager really do? 
The role of a community manager on Facebook includes: 
Giving your members a safe space to post their thoughts

Offering support and guidance when needed

Establishing the brand through creating the banner, and the tone of voice within the community

Fabricating the rules and guidelines for members within the community

Accepting and screening members that are applying

Making sure people remain consistently engaged 

Creating learning content and updating members on important information

Reviewing analytics and adapting the community strategy according to your audience

Creating content and sharing other people's content to spotlight their voices

Moderating discussions and chiming in occasionally when you see fit

Making sure the space remains safe and supportive
On Facebook in particular, it's important to interact with people's posts and share content – but not too much. You will have to establish your role as the manager and find out what your audience feels is too much intervention, or when they need more guidance. Posting all about yourself all the time isn't an option, this is a chance for you to spotlight others.
After all, if they just wanted to hear from you, they'd follow your personal Facebook profile!
Best practices for managing a Facebook community
How to start and host a Facebook community 
Establish your community's focus
Screen members with intention
Join Facebook groups and perform your own research
Plan and schedule content in advance (and switch it up!)
Use Facebook insights to drive your strategy
1. Establish your community's focus 
Before you begin a community on Facebook, you first want to lay down a solid foundation for yourself. Make sure you understand the ultimate goal of the community, and the rules/conditions you want all of your members to adhere to. You're about to be managing a lot of people, so make sure you've done all the organizing and admin work behind the scenes in advance so that everything flows smoothly on the surface. 
Begin by asking yourself some important questions, and respond in as much detail as possible: 
What is my budget?

Why am I starting this community?

What tone or example do I want to lead with as a community manager? 

What are my future goals for this community? Where do I want it to go? 

Who is my target audience? What would be an example persona? 

What do I want my audience to feel when they come to this community? 

What sort of outcomes would I like to see from this experience? 

What's a list of things I

don't

want in my community? 
2. Set up your Group page
Once you've done some reflection on your mission and goals, it's time to start setting up the page! You don't want to spend too long in step #1 – because you'll avoid the most important, yet the hardest part: 
Actually starting your group.
First, start by going to Menu > Create > Group.
You'll see the option to set up your group name, your privacy settings and the first friends you'd like to invite to join your group.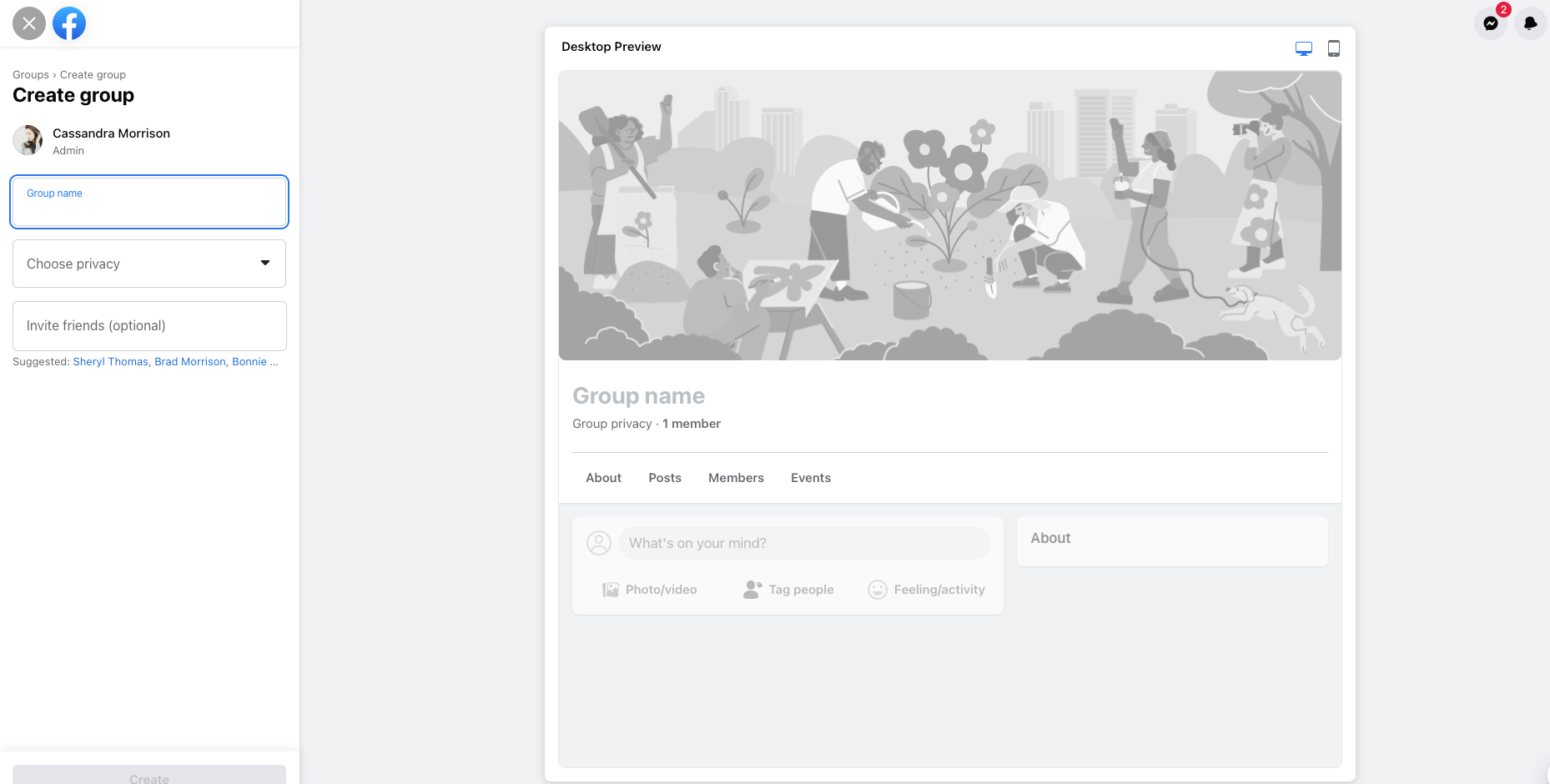 When picking a name, keep in mind the focus of your group. 
Include a title that speaks to who you want to attract, as well as one that uses a main keyword to help your SEO (search engine optimization)
There are 3 different privacy settings you can choose from: 
Private –

 Only members in the group can see what's being posted

Public –

Open for anyone to join or see posts (accessible by search engines)

Secret/Hidden –

Not discoverable unless you're a member (join by invite-only) 
Once you've decided on what privacy setting you want, you'll then begin to edit and build up your group page.
The first thing that people will see when they decide to join your group is your cover banner and "about-me". Spend some time really narrowing down your goals into a short, but enticing description that ends with a CTA (Call To Action) to get people involved and engaged with your group.
As for the banner, make sure it's eye-catching, branded and displays clearly the name or goal of your group. 
Include the location of your group if applicable, and then add in a series of 5 top tags for your industry. 
You can also choose to add badges or unique "feature sets" for whatever your community is going to be about.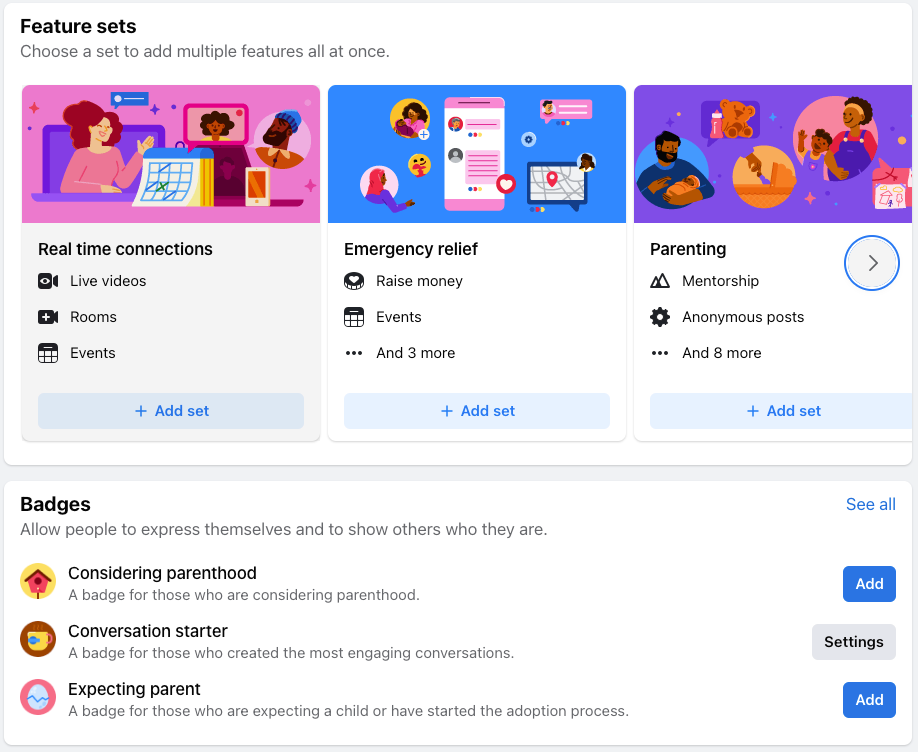 3. Build up your user base 
Now, it's time to get people to know about your community! 
Start inviting your friends and communities through other social media platforms, email invites or whatever your main method of communication is.
A great way to continue scaling your community is through taking advantage of the fact that Facebook is also a social media platform. Whenever people share things in your group, encourage them to use group hashtags – and post things regularly on your personal profile as well to help spread the word!
4. Screen members with intention
Many community managers on Facebook say the same thing about letting people into your community: make sure to do it intentionally. 
Screen people based on their intentions, goals, and make sure that they have the same mindset as you and your members. You can do this easily through setting up an application that people have to fill out before they are allowed to join. 
To do this, go to Groups > Manage > Membership (for private groups) or Participation questions (for public groups).
Next, create and edit your questions. You can do a variety of question formats from checkboxes, multiple choice or long answers. When creating your questions, keep in mind those questions you asked yourself in part 1:
Who is my target audience? 
What don't I want in this group?
What are the outcomes I'm hoping for? 
Pick people who share the same vision to make sure everyone gets along and has something to both add and gain from the group.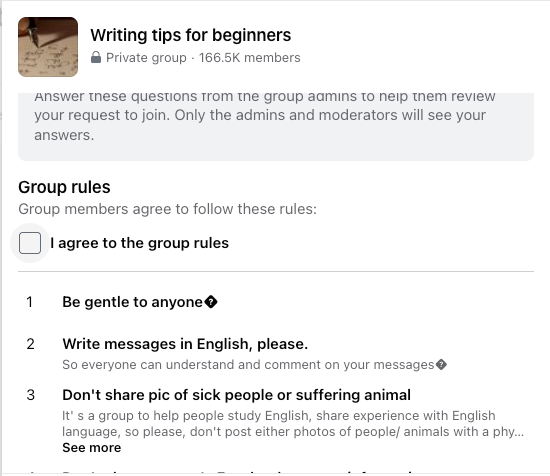 Another way to make sure your community is safe and unified is by creating a list of top 10 rules and conditions that people must follow in order to be accepted and remain in the group.
These 10 rules will appear in a public tab available for all to see, at any time. In order to do this, simply go to Manage > Admin Tools > Group rules, and start writing out your rules.
5. Join other Facebook groups 
The best way to learn how to best run a Facebook group is to join some as a member!
Find some groups around similar topics to yours, and take a look at how people are running them. What don't you like? What do you like? Take note of best practices from your own experience to determine the type of community structure you want to create.
6. Build a rewards systems
Behavioral science proves that rewards systems encourage engagement, and incentivize people to take action. For example, whenever a dog does a trick, the owner gives it a treat so that the next time they say a command – the dog will do it.
The only condition: the reward must be delivered, and it must be relevant.
The same system works with people. If you want to encourage engagement in your community, promise that there will be a reward for their engagement. Come up with something that is valuable for the people in your group.
Offering rewards helps people feel valued for their work, encourages focus, interest and engagement and makes people feel valued for this work while lifting morale – after all, who doesn't love a good reward?
7. Plan and schedule content in advance
Part of your duties as a community manager on Facebook is to give people something to talk about, and give people a reason to join the community. 
While people will run discussions on their own, you also want to make sure you're steering the discussions, and constantly improving the experience.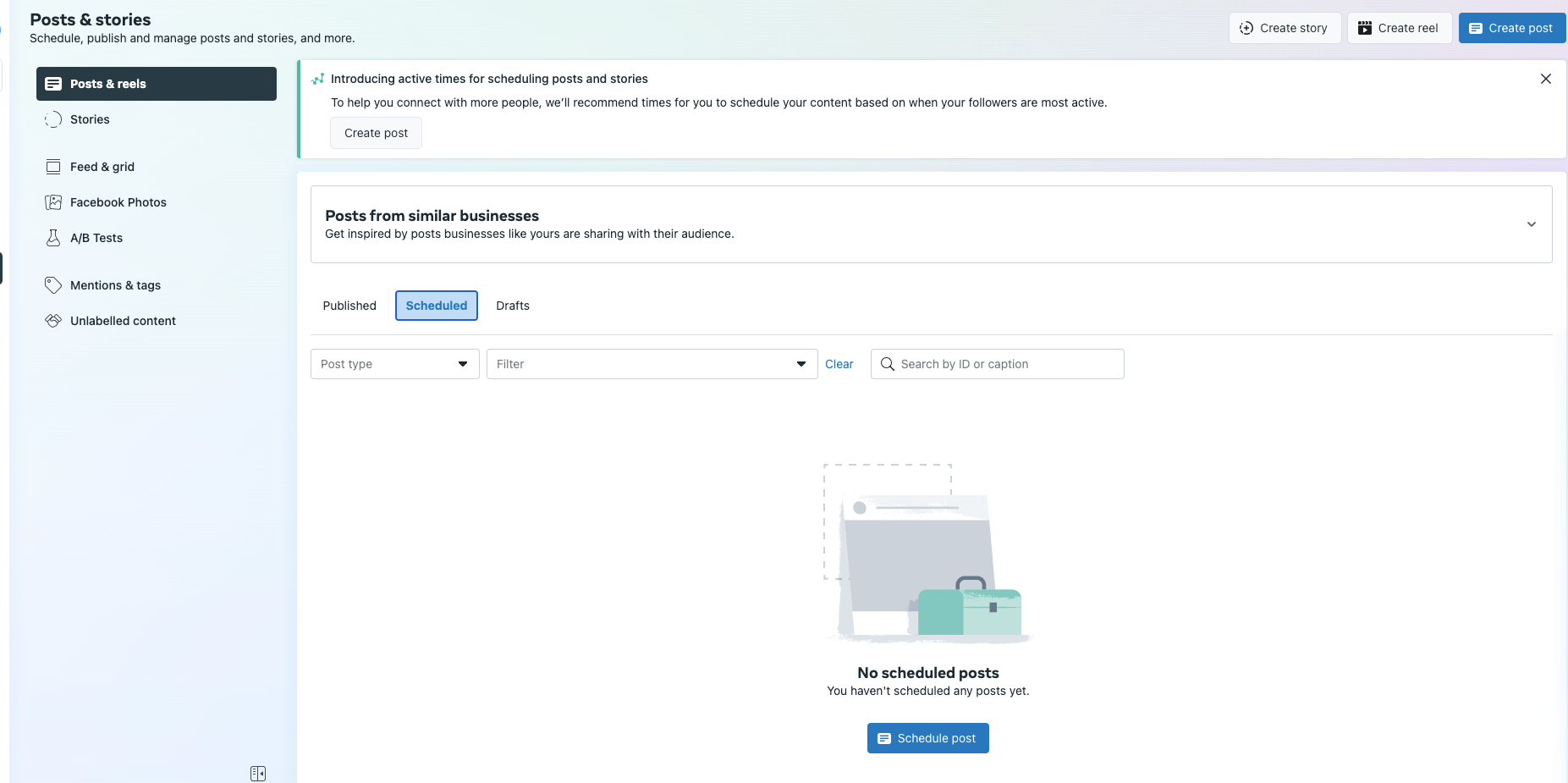 This means creating content from posts, videos, to hosting events and running polls. Create a mix of different content with different value-adding topics so that people feel like they're getting something out of the community. Using Facebook's schedule, you can easily batch create content, and schedule them in advance to take one thing off your mind as a community manager.
8. Use your Facebook insights 
Facebook has built-in insights that are going to help you determine the overall health of your community. Make a habit of looking at them regularly and keep an eye on engagement in particular. 
To access your group insights, go to Manage > Insights on the left of your desktop to see different engagement, growth and membership statistics that can help you make educated decisions. You can download a report of these insights as well to keep them on record, and see your trends over time.
9. Listen to your audience
Listening as a community manager on Facebook might just be the most important part of your job. While you host some of the discussions and plan events, your audience talking and discussing with one another is part of what makes a community a "community".
This means you have to know when to intervene and when to step back. How do you know? It simply takes practice. But the most important part about listening regularly, is that you can see which parts of your community need improvement, and what parts are going well. 
Look at comments and skim through people's thoughts to make sure you're doing your best job as a manager. Turn on your group notification and check out all of the posts going up in the early stages of your group. Then, when things get too busy, start using the keywords function to stay up to date with what people are saying.
Another way to listen to your audience is to ask directly for feedback. Hold polls, hold surveys and don't be afraid to start a discussion in-feed or through a group chat on Messenger to find out what people would like more of, and what they would like less of. 
Then, adapt and change as you go. 
Must-have tools for Facebook community managers
While Facebook has tools built-in, there are a series of tools that can greatly help you in managing a Facebook community that you might want to consider trying out: 
Zoom

– This is a great add-on to help you host better-quality calls than you can in-platform. Facebook isn't particularly specialists in video or audio, so sometimes having small improvements like this can make all the difference in the ease of experience for your members (and yourself).

Notion

– While not directly a community management tool, it's grown to be wildly popular in work teams and any collaborative setting. Notion is an all-in-one organization app that lets you create spreadsheets and documents all in one place. You can create calendars, schedules, embed content, and let you share any or all of it with others. You can use it to plan your content as well as host communal documents to share with your users (without giving them edit access to your entire workspace).

Brand 24 –

This tool helps you keep track of any brand mentions or talks related to your industry. It helps you keep up to date, find content ideas without having to spend hours filtering through research, and lets you know if something significant about you or your industry has popped up in the media.

NapoleonCat –

a simple, Facebook-friendly add-on to help you manage comments, scheduled posts and customer support much easier. 
Build a community with Nas.io
Nas.io integrates your Facebook community with an all-in-one community-building platform that's not just focused on social connections – but purely community. Here, you can build a customized space for FREE and create opportunities for growth, connection and learning.
We are a platform directly committed to building functional, collaborative communities online for your brand. Whether your want to start a community for fashion, sports, writing, Web3, NFTs – anything – this is the best, new place to do it.
Reach out to our incredible support team and learn how to start your own community today. We'll be with you each step of the way.