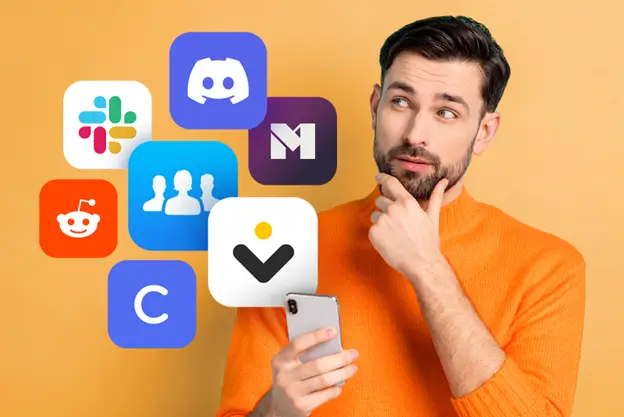 As an expert creator in your niche, you probably would have heard about how important it is to build a community. But why is everyone talking about building a community?
Well, turns out it's human nature!

Both humans and the internet are social by design. Think back—online forums and boards were the primary social networks. Before Instagram, Facebook, and all that…people were joining forums by the millions to geek out over shared interests.
In fact, Brian McCullough, in his book, "How the Internet Happened" argues that connecting and forming communities was a core pillar of the web we know today. Even in 2023, communities remain central to how we experience the digital world. So, if you're looking to grow a business today, online community building is key.
But building a thriving online community is hard. Without the right platform, it's tough to actively engage members and get them to connect with you and each other. You might be telling yourself things like..
"Getting people to participate and come back is difficult."
"I spend so much time managing different platforms just to engage members across channels."
"I need data to understand what my customers want."
"How do I use my skills, knowledge, and followers to make more money?"
We hear your pain! But don't stress. We've got the perfect roundup of the top community-building platforms to help tackle those problems.
Whether launching a new community or taking an existing one up a level, these picks have the features and tools to make it happen. Let's dive in!
Best Community Building Platforms
So now you know why you need online communities. But why use community-building platforms for launching your community? Do you really need them?
Over time, online community building platforms can become your secret weapon:
Your personal group for testing new products, courses and launches

A space that converts your followers to become true believers in you

A 24/7/365 marketing machine

Recurring revenue source
And get this – happy members become your FREE marketing agency, sharing your community far and wide. This attracts even more aligned people into the family.
Imagine for a minute – your vibrant community and brand reaching more people than you could alone.
With the right platform, you can build and manage a thriving online community based on data, insights and personalization. It lets you rally people around your brand or cause. People who would not have found each other otherwise have a digital home base thanks to you!
But what makes an online community building platform "right"? Simply put, the platform that addresses all your pain points and makes them better.
Six questions you should consider to choose an online community platform
The right platform is like the right key to unlock the solution to your dilemmas. Here are six questions that you should ask yourself before settling on an online community-building platform.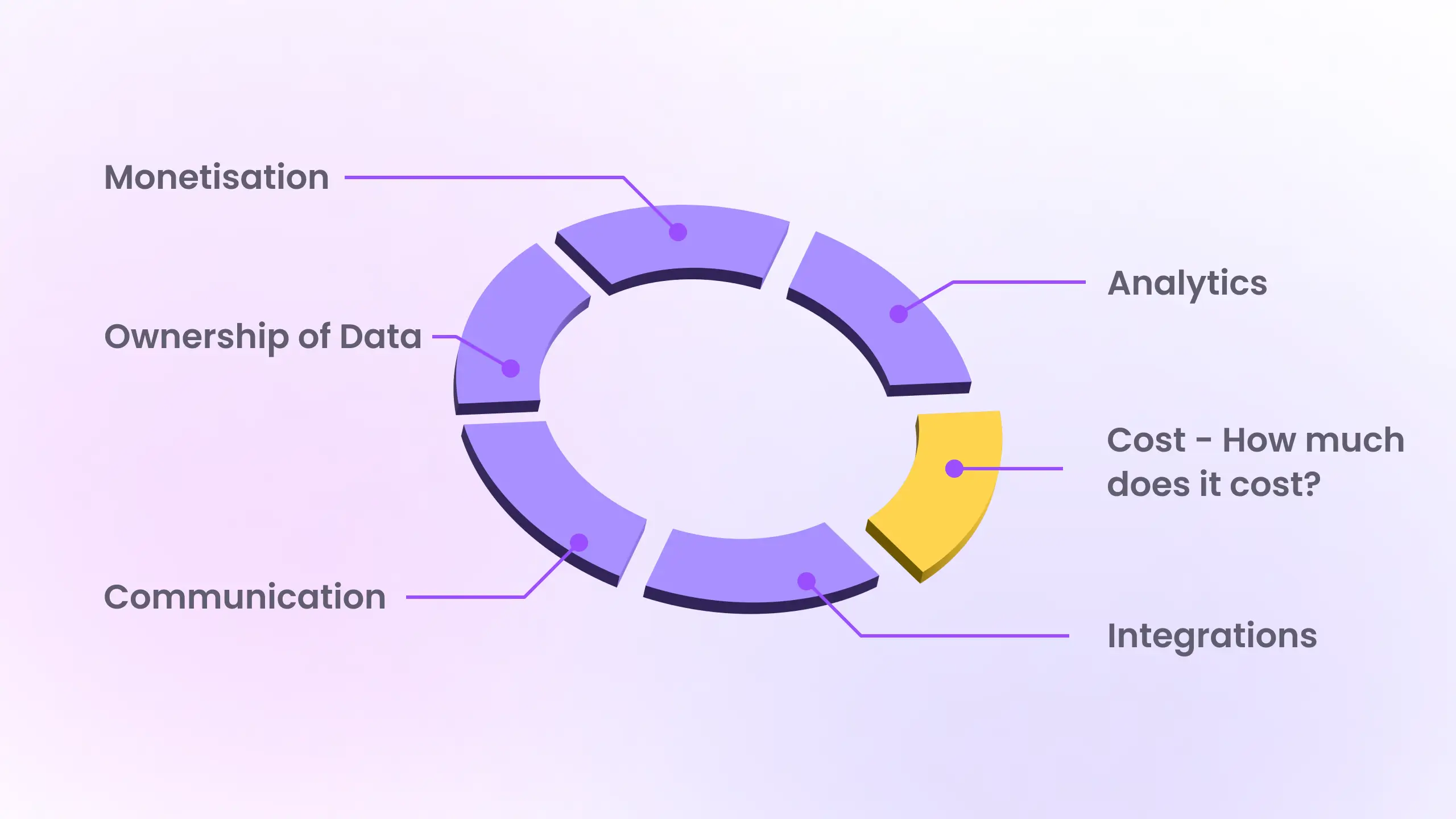 Q1. Does this platform help me monetize my community?
If you ask yourself, "where can I build an online community?" you wouldn't even need us to answer this. Facebook. Whatsapp, Telegram, Discord…the list goes on.
But if you ask yourself, "which of these platforms helps me run paid communities?" you will find yourself in a tough spot. Because none of these popular platforms lets you do that with ease.
You cannot sustain your community if you don't monetize it in some way—either paid memberships or digital upselling with courses and events.
So the number one priority while finalizing your online community building platform is if it lets you run paid communities with ease.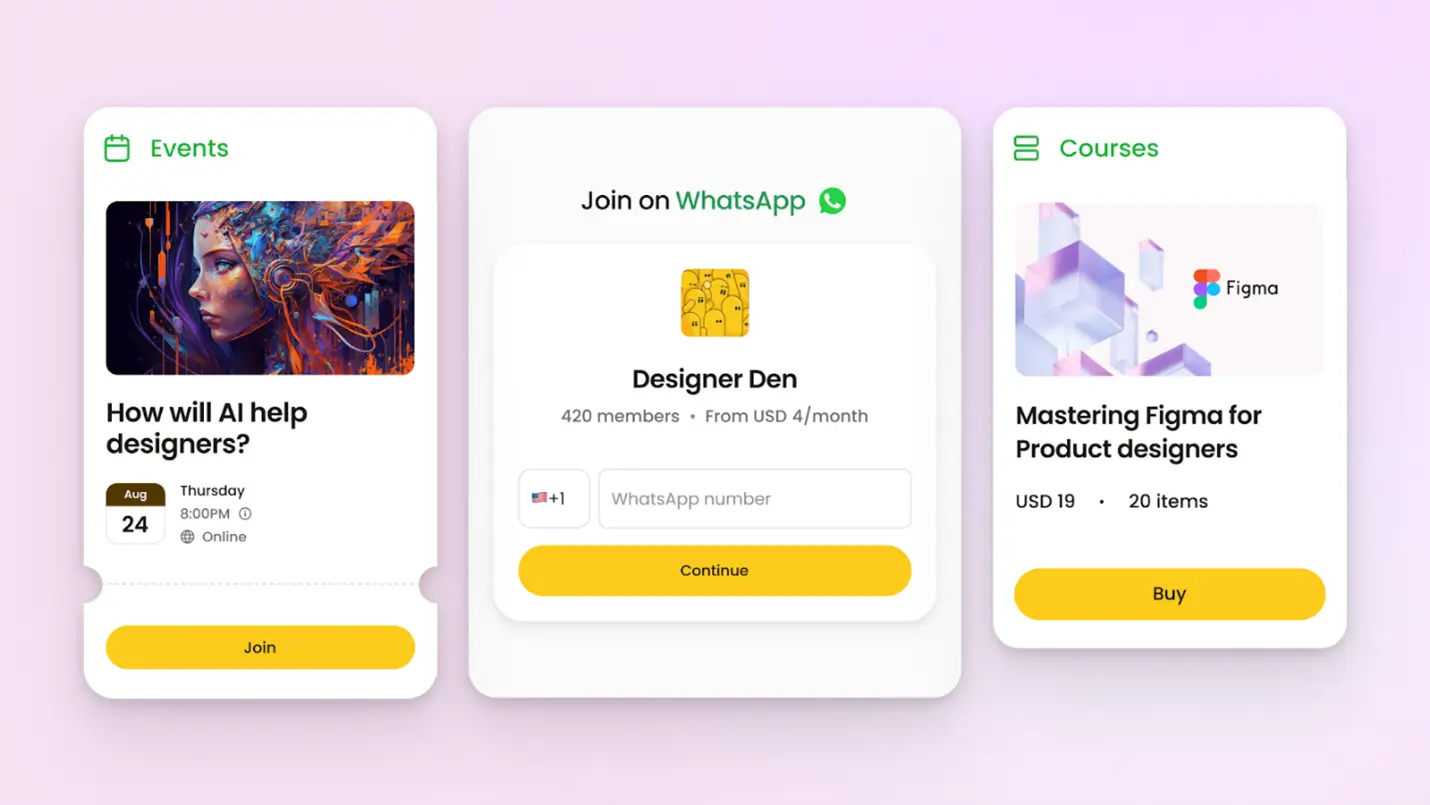 Nas.io helps you monetize your communities by charging a monthly membership fee
Q2. Does the platform work with my existing groups/chat apps?
Platforms that require consumers to create new habits are the hardest to sell. It is better to work with an app that uses group channels like Whatsapp and Telegram than redirect people to new ones.
So, while choosing an online community building platform, see if they offer third-party integrations with channels that people already use, like Whatsapp.
Your chosen platform should be the perfect bread for a sandwich without changing the filling!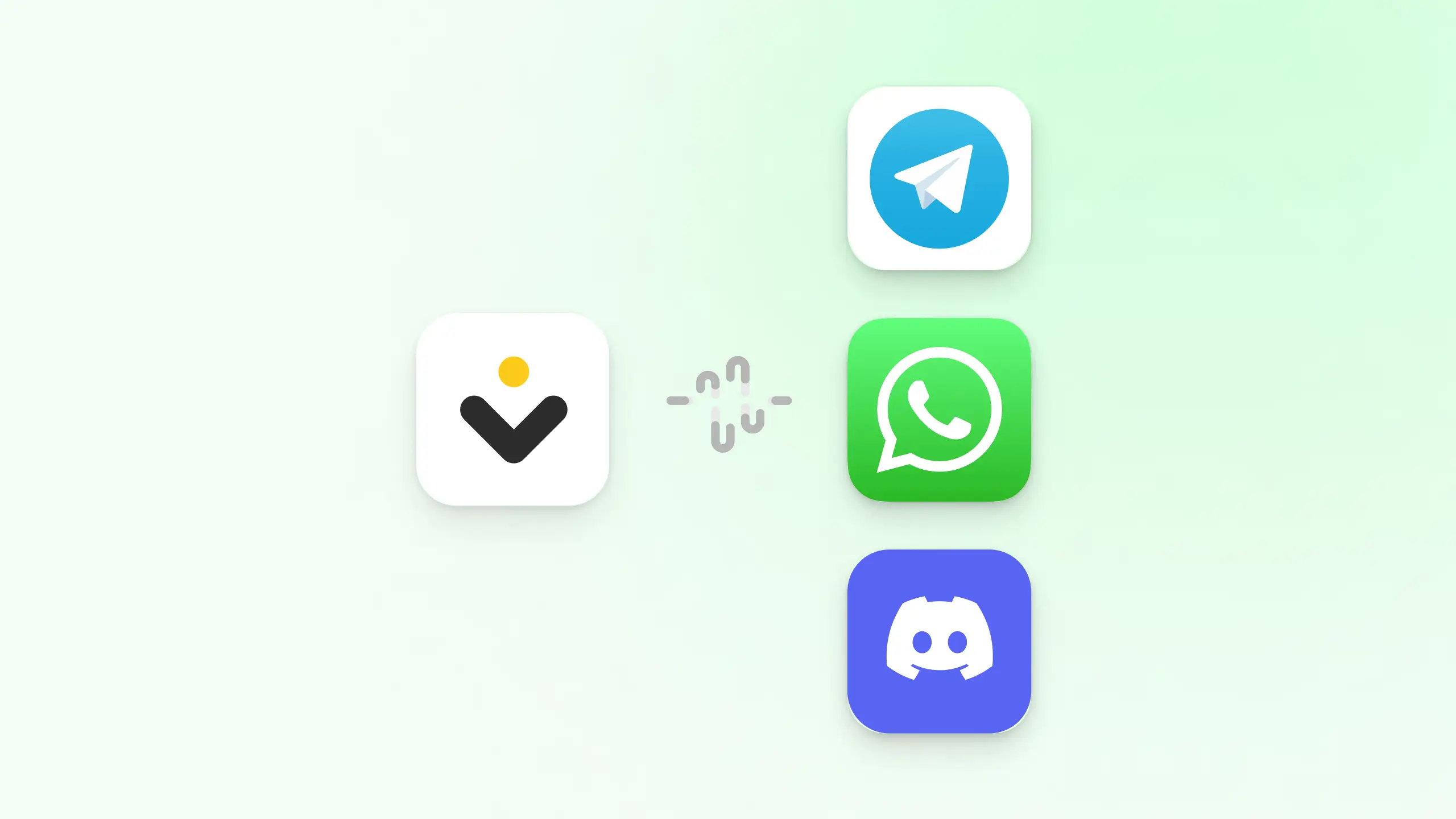 Nas.io offers numerous chat integrations like a layer to benefit from existing group apps
Q3. Does the platform help to increase the engagement in the community?
Being a creator always comes with its biggest problem: how to get members to communicate with each other.
After all, communities thrive when members network in it independent of your presence. You become a driving force, a nudge, or a prompter to facilitate interaction that grows your community exponentially.
So, your online community building platform should do two things. One, make communication easy and efficient. Two, make it simple for you to reach your audiences with one click. With these two aims achieved, your members will participate in the community even more.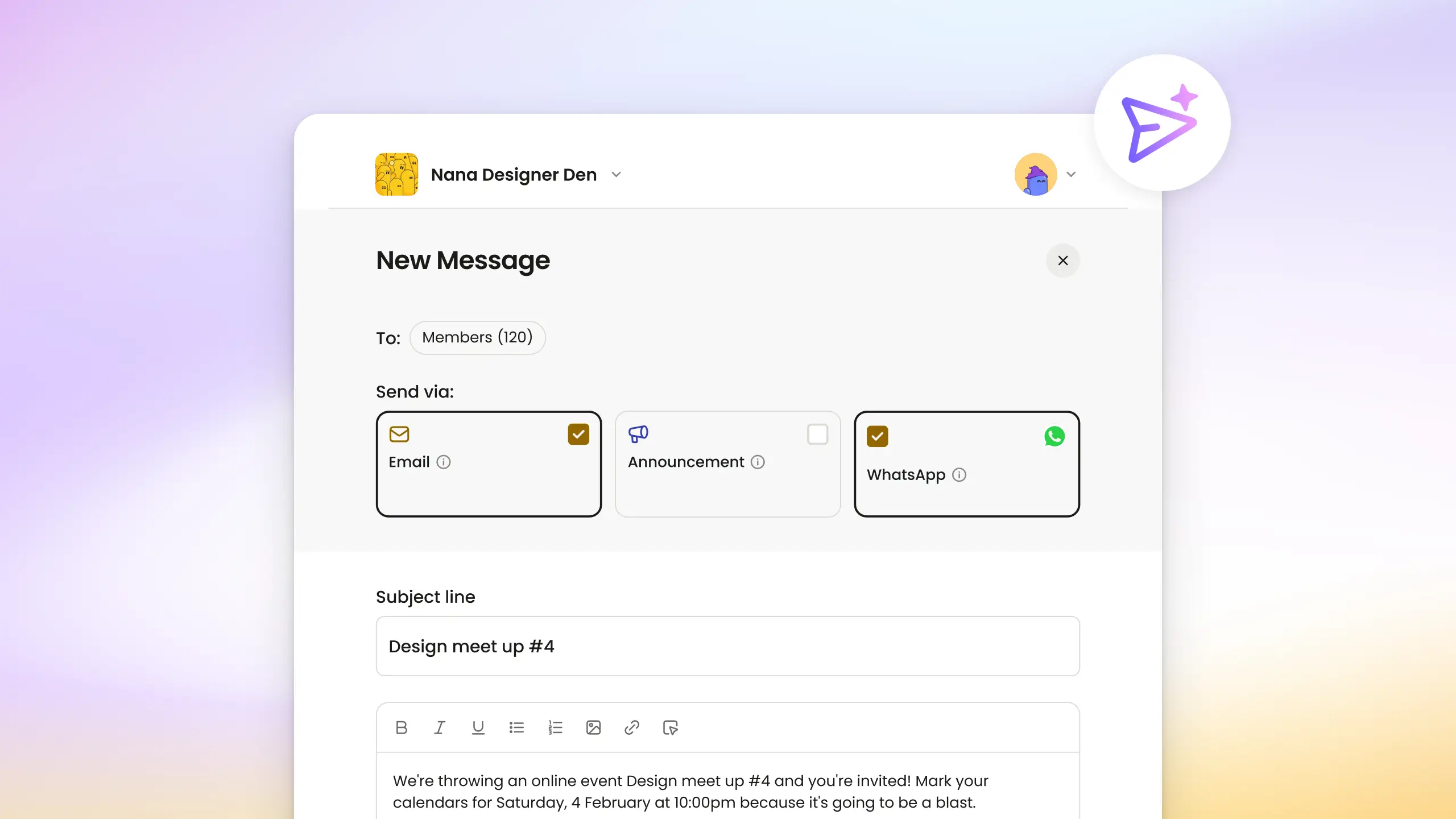 With Nas.io's Magic Reach, you can shoot up your engagement stats with intuitive messaging.
Q4. Does the platform answer my questions about my community with insightful data?
As a community leader, you need a lot of insights to constantly improve. Where are my subscribers located? How many of them unsubscribe? What triggers them to unsubscribe? How many people open my messages? How many end up buying my upsell?
The answers to all of these questions are in numbers. And the right community platform will give you those insights, and tools to act on them.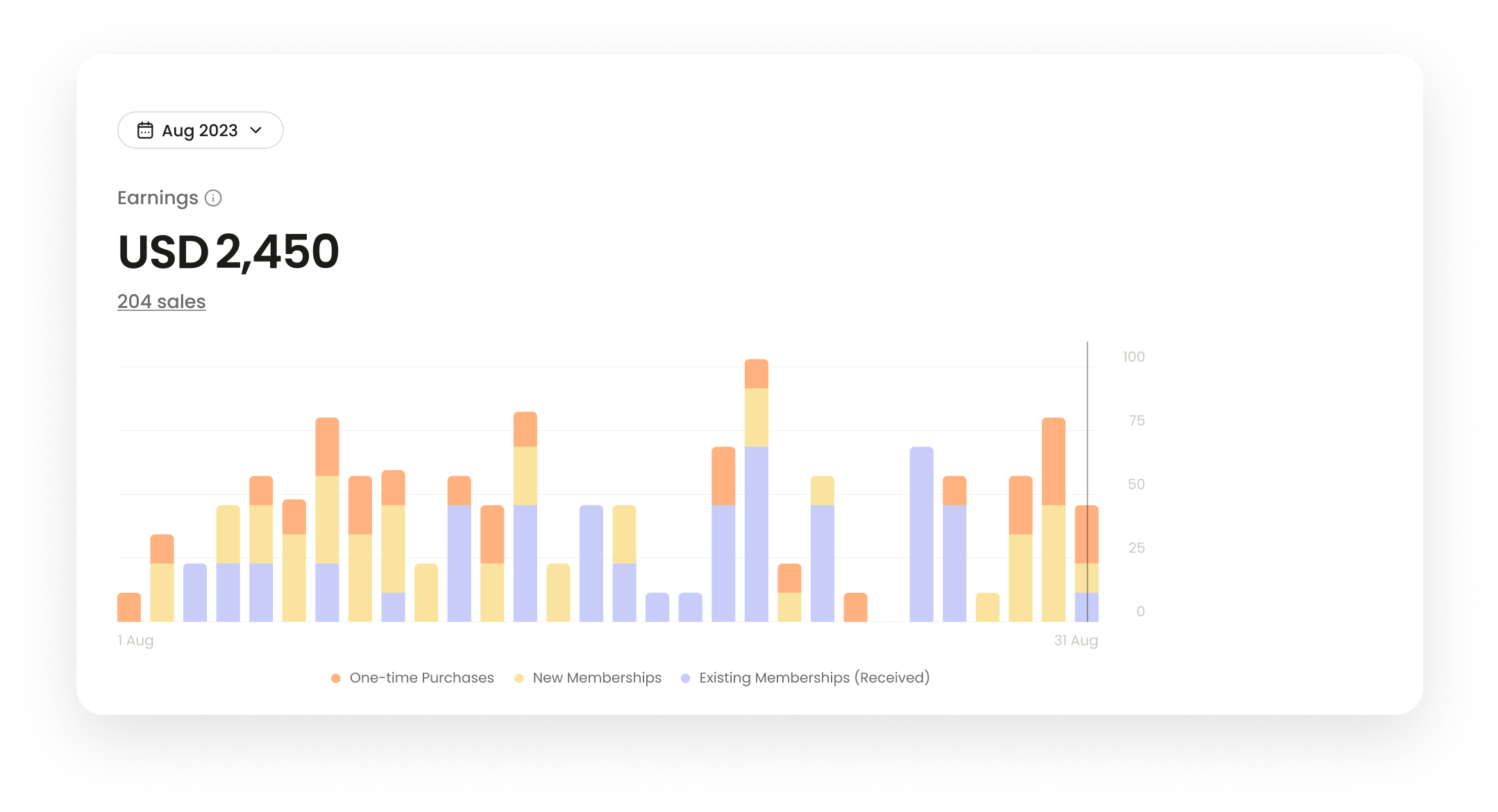 Nas.io's analytics dashboard is easy to understand and delivers weekly insights straight to your inbox
Q5. How dependent is the platform on algorithm?
Here's what is happening on social media nowadays.
The pesky algorithm is coming between creators like you and your audience more than ever before. You just can't reach your people on TikTok, Instagram, or Facebook like you used to. That's just how these "interest-based" algorithms work.
This is why we're seeing millions – yes, millions! – of creators building up their own channels. Newsletters, WhatsApp groups, IRL meetups…you name it.
Creators need a space to gather their communities WITHOUT the algorithm blocking the way. Somewhere to foster real connections and engagement.
That is where independent, algorithm-free community platforms become important. The members are yours. You have ownership of data. The community does not belong to an algorithm.
Q6. How much does the platform cost?
Let's be real. You may be skeptical of using community building platforms because of their usual hefty commissions and platform fees. And that is a legit concern—as a creator, you cannot afford to drain your earnings while building a community.
The good news is there are platforms that charge you ZERO fees to create a successful community. At max, they take a small commission when you finally start earning. Consider platforms that work in your interest.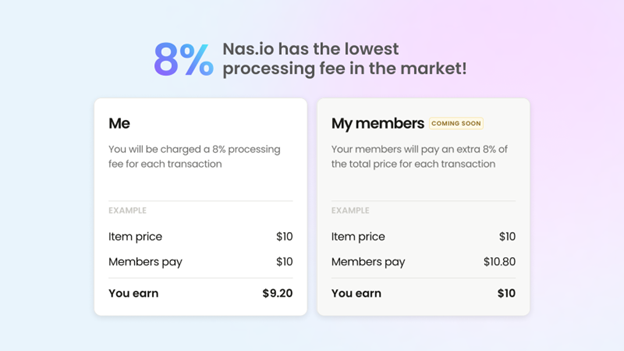 So, how many online community platforms help creators like you build successful communities? Let us find out.
Best Online Community Building Platforms
Nas.io
Nas.io lets you build an engaged community from the ground up with the right technology and tools. It's quickly becoming a favorite community platform for creators, businesses, and organizations.
Best Features
Nas.io makes it easy to create vibrant online communities with powerful features:
Email & Message Members through Magic Reach
Want to reach your audiences like magic?
With Magic Reach, you can directly communicate with members via email and in-platform messaging. Magic Reach ensures you can notify members and drive participation. Also, you save time on manually segmenting and filtering your audiences.
Community Public Pages by Nas.io
With Nas.io, you can display your public community feed, blog, and other pages to attract potential members. All you need to do is fill in some basic information about your community, and Nas.io will create a beautiful landing page to unlock your community's reach.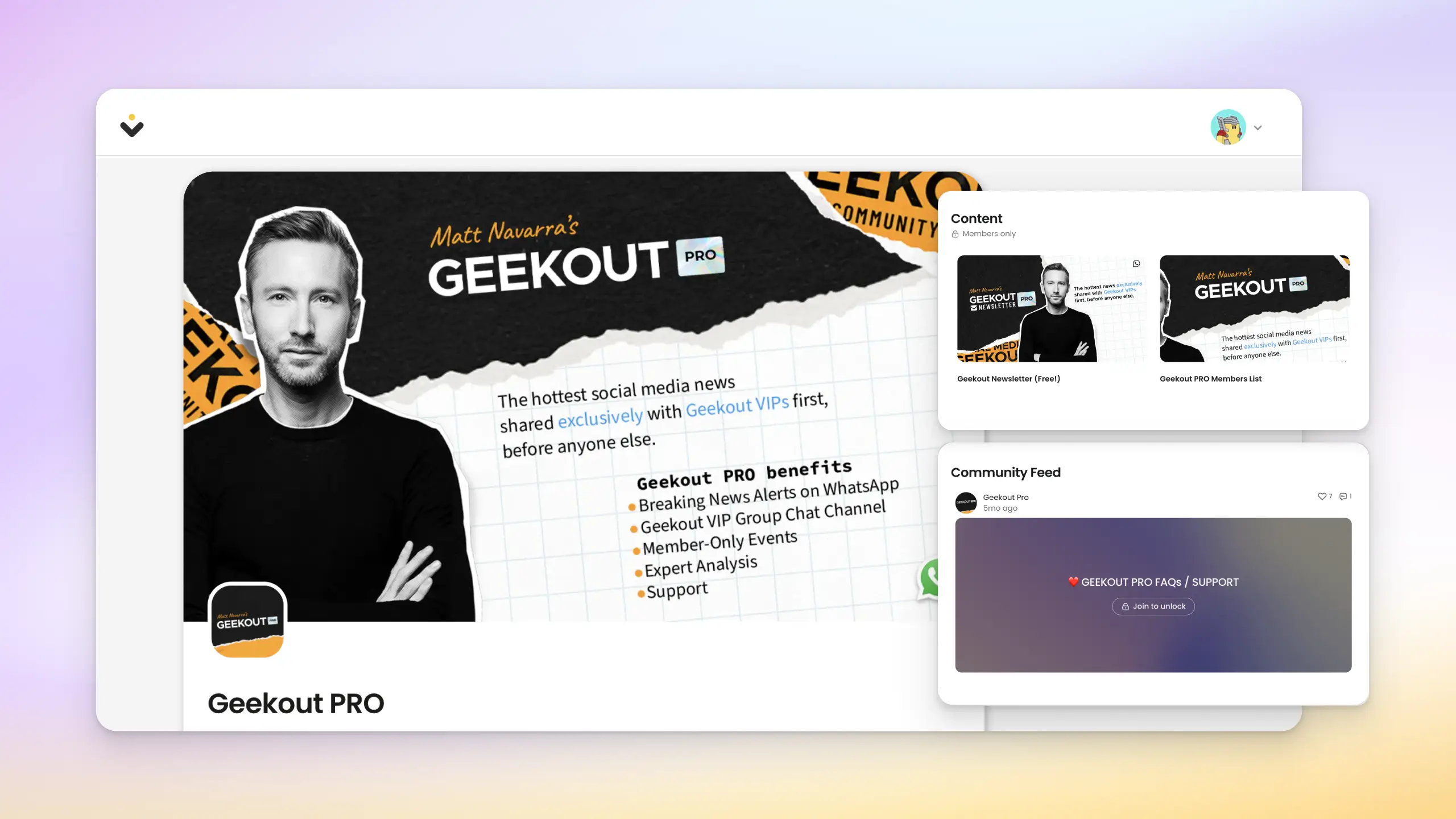 View Analytics through Nas.io
Nas.io provides a single dashboard to give insights into member activity, engagement, revenue, and more with built-in analytics. This helps you answer vital questions about your community's success.
With detailed analytics on members, content, revenue, referrals, and member lifecycle, Nas.io acts like your personal growth assistant.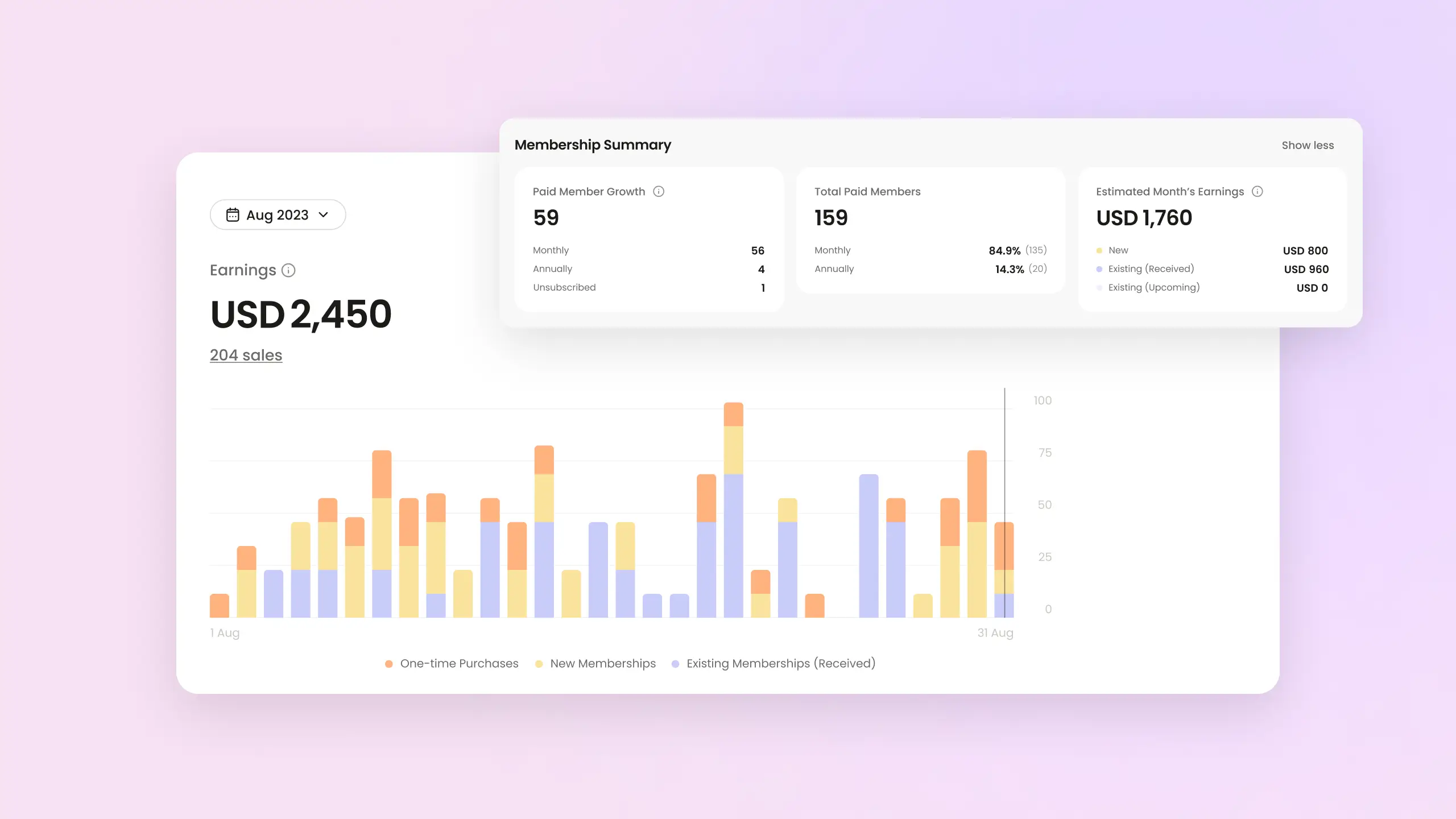 Content Manager by Nas.io
Creating exclusive video courses for your members is a breeze with Nas.io! You can easily upload private videos and organize them into beautiful collections and courses right from your Nas.io dashboard.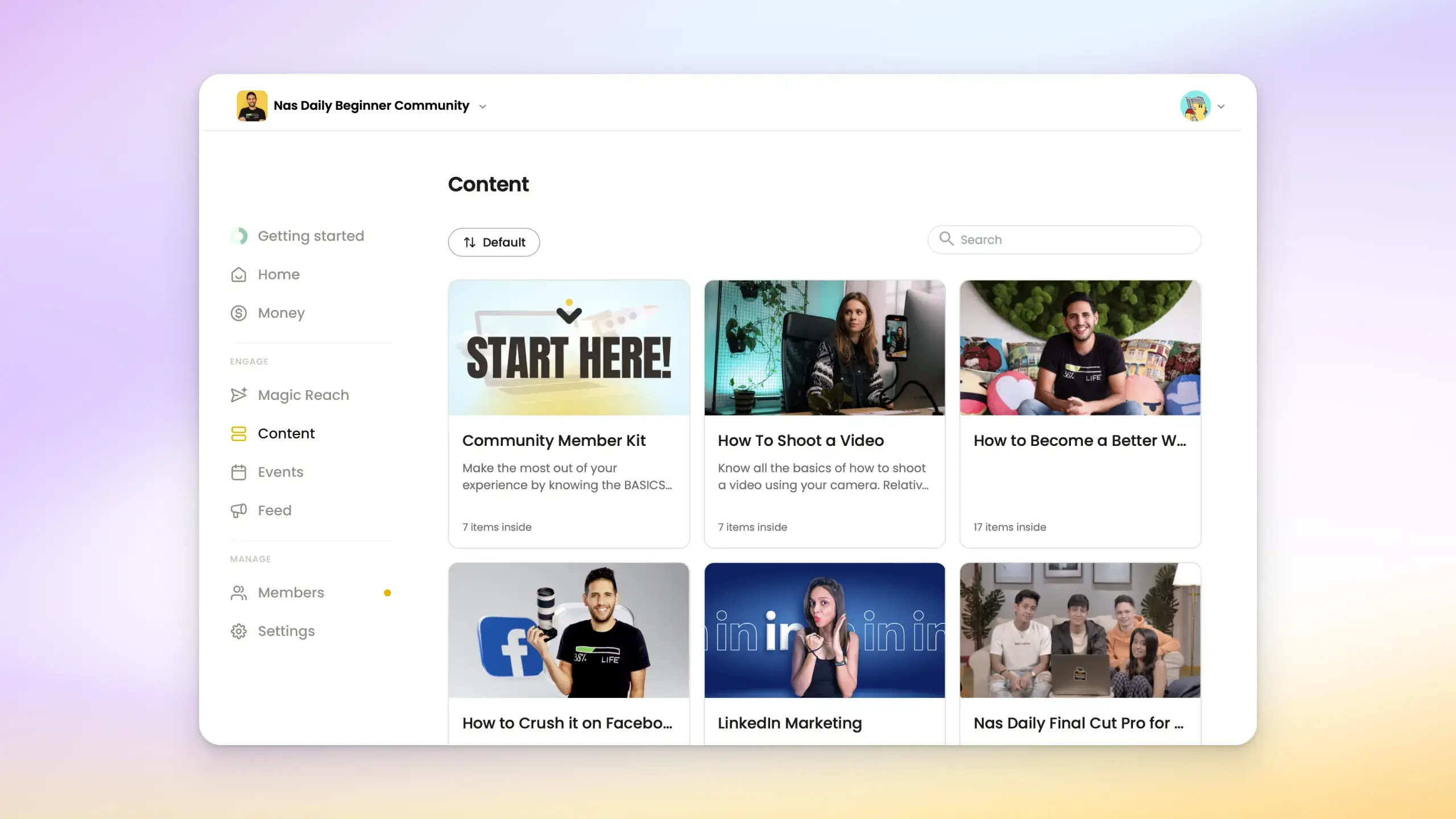 Got premium video content? Nas.io makes it simple to build a private, members-only video library in minutes. Share your expertise by putting your course behind a paid subscription gate or sell access directly to members of your free community.
The Nas.io Content Manager lets you:
Keep all your videos neatly in one searchable place

Build a members-only video vault packed with premium content

Create an entire professional-looking course with lessons, quizzes and more in under 3 minutes!
Host Events through Nas.io
With Nas.io, you can host, promote, and manage virtual events natively. No technical setup needed – just fill in a few basic details and your event is created. Then automatically notify your community.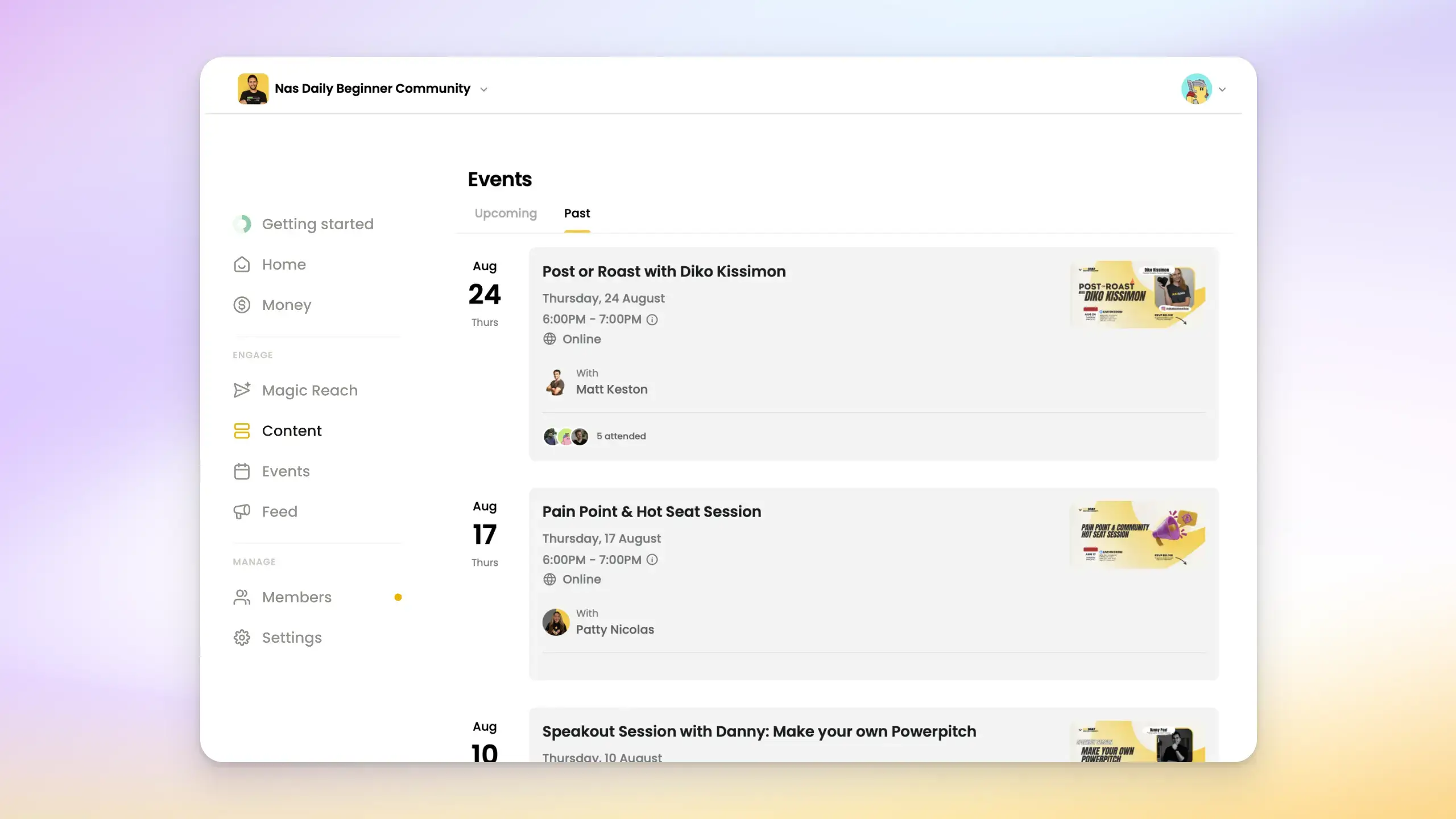 Nas.io Live Events makes it easy to:
Integrate with Zoom to simplify your virtual event setup

Charge tickets or limit access to token holders

Boost show up rates and engagement from your community
Nas.io handles the heavy lifting so you can focus on creating an amazing experience!
A Community for Community Builders
Nas.io is truly all about community—there is even a thriving community for you! Members get access to live events, updates, and live chats with other community leaders. Moreover, you get to directly connect with and shape the future of Nas.io.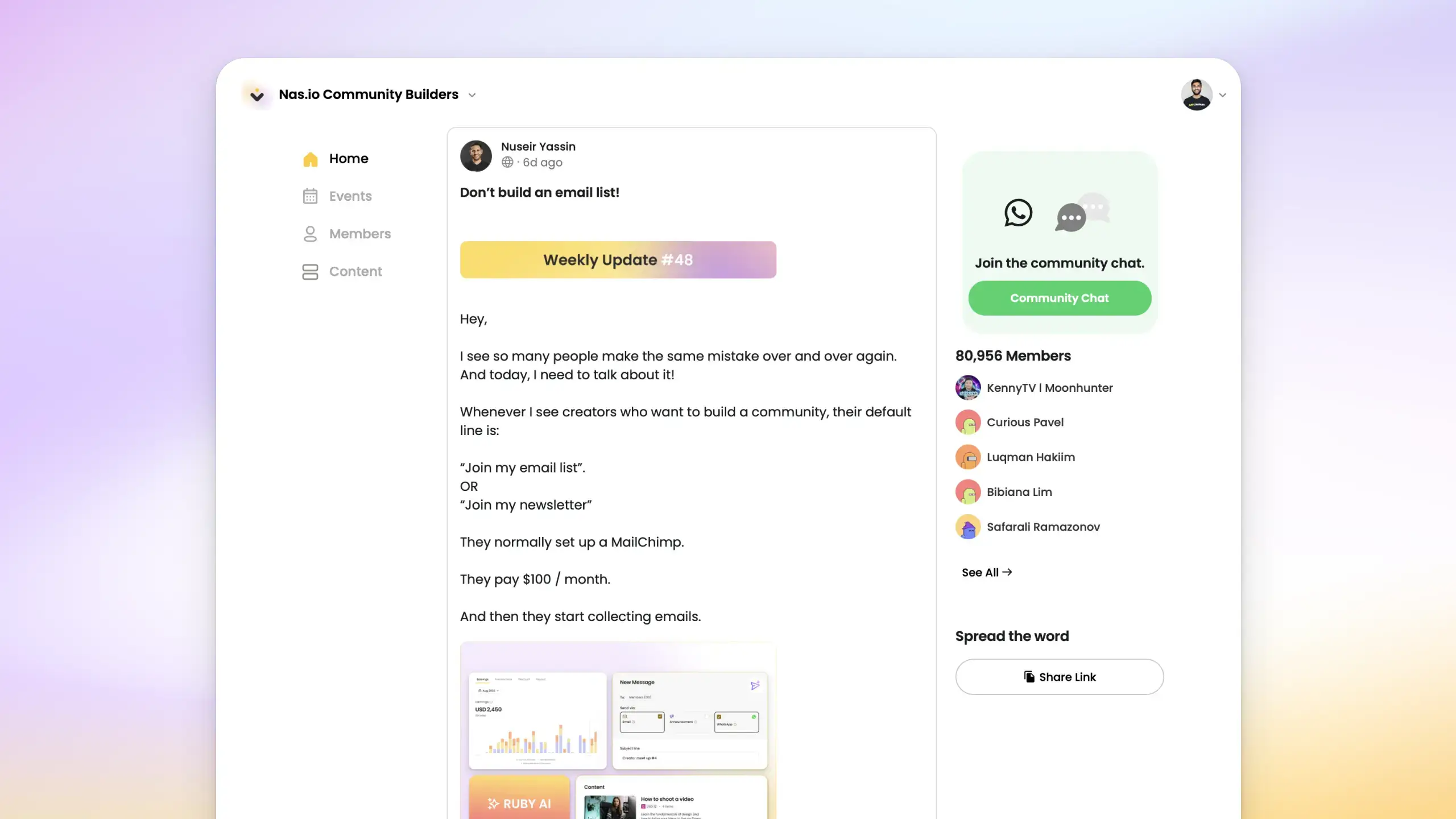 Nas.io hosts a community platform for the community leader in you
AI for Whatsapp
With Nas.io's AI for Whatsapp feature, you can generate beautiful summaries of daily member conversations in your community, and save a generous amount of time. Moreover, you can view the history of summaries, identify patterns, and use those to create an insightful feed for your members.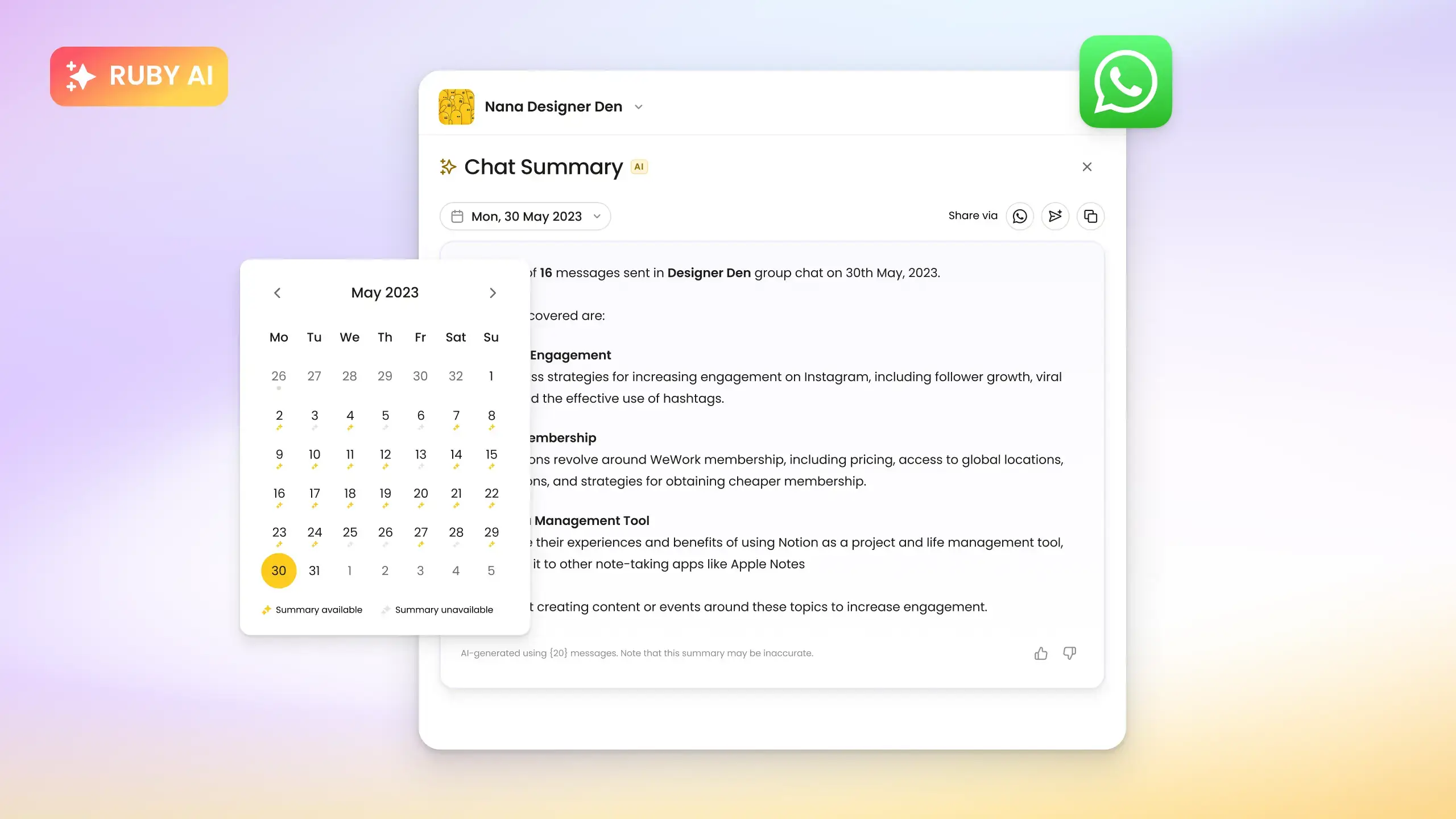 Plans and Pricing
Nas.io is free to use—anyone can launch and build their own community for free. Only when you monetize it or start earning money, Nas.io takes an 8% commission per transaction, with a choice to pay yourself or pass the fee to your customers.
Pros of Nas.io
Cheapest platform for community builders

Manage members with custom segments and filtering

Content Management module for all your courses and resources

Membership monetization through subscriptions and gated courses

Robust analytics to gain insights into member engagement

Intuitive management tools for messaging members and moderating

Personalized support for you

Third-party integrations reaching your customers where they are: in their preferred group platform of choice.

A library of discounted courses so that you quickly understand Nas.io and the essentials of community building
Cons of Nas.io
Ecosystem of integrations still growing

Analytics capabilities still deepening
Use Cases
For content creators: Nas.io helps build engaged followings. Creators can share exclusive content with subscribers, offer paid memberships, and get feedback in dedicated spaces. Nas.io gives creators ways to monetize and own their audience.
For Educators: Educators can create vibrant learning communities on Nas.io. Features like built-in course authoring tools, video uploading, and certificates help educators teach online. They can build cohorts, host live events, and foster discussions between students. Nas.io provides the tech tools for educating at scale.
For Web3: With token-gated content, digital wallet integration, and branded apps, Nas.io lets web3 founders engage decentralized audiences. They can build transparency, share knowledge, and drive participation.
For entrepreneurs and startups: Nas.io helps build business communities. Shared spaces allow for collaboration, team communication, and engaging customers. Monetization tools help generate revenue through premium content and offerings.
For Businesses: Use Nas.io for customer communities and knowledge sharing. Multiple admin roles, and analytics provide the foundation for customer support and engagement. Knowledge bases and discussion forums help customers help each other.
Key Takeaway
Nas.io acts as a fool-proof, one-stop solution for any creator wanting to build communities and earn money.
With unique features, AI integration and varied use cases, it stands out as the obvious choice to grow your venture. And the part we loved the most is that the team itself is led by creators who are very passionate about listening to fellow creators like you and solving problems.
Ready to start building your thriving community? Get started free with Nas.io.
2. Facebook Groups
With over 2 billion monthly active users, Facebook remains a dominant force for online audiences. And within their ecosystem, Facebook Groups stand out as a popular community building tool. Let's explore how they stack up in 2023.
Best Features
Facebook Groups provide a lightweight set of community features on top of the core Facebook platform:
Member profiles

– Participants use their existing Facebook profile and social graph.

Discussion forums

– The main group feed allows members to post updates, links, polls, and questions for the community.

Customization

– Cover images, branding colors, and group rules can customize the appearance and guidelines.

Moderation

– Admins can approve/deny posts, tag types of content, and blacklist words.
As part of Facebook, they benefit from the built-in social graph and identity system.
Plans and Pricing
Facebook Groups are free to use with an existing Facebook account. Optional paid promotion tools are available to boost reach.
Pros
Massive built-in audience and awareness

Simple privacy controls for public/private groups

Lightweight community features are easy to use

Tight integration with Facebook Pages and Ads
Cons
Very limited native monetization


No way to charge subscriptions or gate content.

Restrictive customization


Less ability to tailor look and feel.

Few native community features


Basic discussion forum lacks robust capabilities expected of dedicated community platforms.

Dependence on algorithm


Benefits tied closely to the Facebook platform and algorithms, killing reach massively.
Use Cases
Facebook Groups work best for public communities focused on basic discussions rather than gated, premium content. Brands use them as customer support channels while creators build general fan groups.
The public or private nature makes groups adaptable across many use cases, both for enterprise and consumer audiences.
Key Takeaways
Facebook Groups are great for basic community needs but lack robust features. While it provides easy access to the Facebook audience, it is difficult to earn money from groups. Monetization and gated content require third-party tools. And reaching audiences is a pain. Because no matter how stellar your content is, the algorithm decides what to show and whom to reach.
3. Mighty Networks
Looking to build a vibrant membership community? Mighty Networks is a promising community platform gaining traction, especially with creators and entrepreneurs. Let's explore how it stacks up.
Top Features
Mighty Networks provides a solid set of community features:
Spaces for content sharing and discussion

Native course creation with multimedia and quizzes

Paid subscriptions and member tiers

Live streaming of events

Member analytics and moderation tools

Email marketing and promotions
The focus is providing creators tools to monetize and engage their followers through exclusive content and paid memberships.
Pricing Plans
Paid plans start at $33 per month for core community features supporting up to 500 members. Higher tiers add more membership levels, courses, events, and priority support.
There is also a free version with limited features and 50 members.
Pros
Designed for monetization with gated content and subscriptions

Simple course authoring right in the platform interface

Apps allow for community on the go
Cons
Smaller ecosystem of third-party platform integrations

Less customizable than more open platforms without imposed branding

Focus on creators limits enterprise/organizational use cases

Steeper learning curve for both users and creators for mastering the various features

Analytics and insights less robust than dedicated community analytics vendors
Use Cases
Mighty Networks is optimized for creators building engaged followings of fans and followers.
Key Takeaways
Mighty Networks makes community building accessible for creators through an integrated platform model. However, the narrower toolset may pose limitations. Further, unlike platforms like Nas.io where you pay only when you earn, Mighty Networks asks for an early investment. And the features in the free plan are rather limited.
4. Circle
Looking to build an engaged community around your content and offerings as a creator? Circle provides a robust platform tailored to empowering creators. Let's explore its capabilities.
Best Features
Circle offers several standout features for creators building communities:
Monetization

Charge membership fees or accept donations to earn from your community.
Automation
Program workflows to streamline community management.
Privacy
Keep topics private with permissions to control access.
Mobile optimization
Integrations and experience optimized for mobile.
Together these features allow creators to easily build and manage successful monetized communities.
Pros
Easy for both creators and members to use.

Connect tools via Zapier for enhanced capabilities.

Gain data-driven insights into your community.
Cons
Expensive plans


Can get pricey, especially with add-ons.

Transaction fees


Extra fees beyond just plan costs.

Lacks course features


Not ideal for creators selling courses.
Pricing
The most popular plan starts at $99/month with a 14-day free trial.
The Bottom Line
Circle provides a solid platform for creators to monetize and engage communities around their brand and content. For other models like comprehensive course platforms, explore options like Nas.io that offer built-in course authoring and video delivery capabilities.
5. Slack
Slack is best known as a chat-based collaboration hub for teams and businesses. But can it also provide a platform for building online communities? Let's take a look at how Slack stacks up.
Best Features
Slack offers:
Chat channels for group conversations

Bots and APIs to add some community functionality

Basic user profiles and shared files

Integrations with thousands of apps
However, Slack lacks core community features like events, analytics, and moderation built natively into the platform.
Pricing
Slack pricing starts at $8 per month per user. Custom paid plans unlock more features like group video calls and advanced integrations.
Pros
Intuitive interface that many business users already utilize

Channels allow segmented conversations

Robust ecosystem of third-party app integrations
Cons
Missing critical community-specific features

No built-in community monetization tools

Can be expensive for large communities

Steep learning curve for non-users
Use Cases
Slack can supplement professional/workplace communities. But for broader consumer communities, it likely requires additional tools.
Key Takeaways
While already popular in many businesses, Slack lacks purpose-built community features. It can provide a starting point, but robust community platforms like Nas.io offer more tailored capabilities out of the box. For the best of both worlds, many integrate Slack's chat with platforms like Nas.io for complete community management.
6. Discord
With over 150 million monthly active users, Discord has emerged as a favorite gathering place for gaming, hobby, and interest-based communities. But how well does it perform for more serious community building?
Best Features
Discord offers:
Text and voice chat channels

Flexible server infrastructure

Robust permissions and moderation

Integrations focused on gaming-related apps

Strong customization and theming options
Pricing
Discord has a free tier along with a $9.99 per month Nitro subscription that unlocks cosmetic extras, higher quality video, and expanded file limits.
Pros
Excellent voice and video capabilities

Highly customizable roles, permissions, and branding

Made for tech-savvy niche community creators
Cons
Very limited native monetization options

Sparse integration ecosystem outside gaming

Can seem chaotic or overstimulating for some
Use Cases
Gaming, tech, hobby, and interest groups where highly engaged daily users want deep customization for community interactions.
Key Takeaways
Discord shines for tailored gaming and tech vertical communities. For other models like paid memberships or courses, Discord likely needs help from additional tools. For broader use cases, explore community platforms like Nas.io that help you build communities using platforms like Discord.
7. Kajabi
Kajabi is well known as an all-in-one platform for course creators to build, market, and sell their educational offerings. But what about facilitating online communities? Let's find out.
Best Features
Kajabi offers:
Course builders with templates

Website hosting and design

Email marketing and automation

Sales funnels and landing pages

Basic analytics on students and revenue
The focus is empowering course creators, not building engaged communities.
Pricing Tiers
Kajabi only offers paid plans with a 14-day free trial, starting at $149/month for basic features up to $399 for the Pro plan.
Pros
Comprehensive course creation capabilities

Built-in marketing and sales funnel features

Streamlined experience for course entrepreneurs
Cons
Very limited community features beyond courses

No custom branding or white-labeling

Steep learning curve mastering the platform

Locked into the Kajabi ecosystem
Use Cases
Kajabi shines for course creators selling online education without broader community platforms. The lack of native community features make it ill-suited as a core community hub.
Key Takeaways
With a laser focus on course creation, Kajabi excels on the education side but lacks the engagement tools or flexibility needed for most community use cases. For community-building beyond courses, explore platforms like Nas.io built to foster social connections and knowledge sharing in one integrated hub.
8. Reddit
As one of the oldest and most recognized online community hubs, Reddit continues to be a go-to gathering place for niche interests and lively discussion. But how well does the platform serve evolving community needs today?
Best Features
Reddit offers:
Subreddits for topic/interest based communities

Voting and commenting to drive engagement

Karma system for reputation and rewards

Some moderation and automation capabilities

Native mobile apps
The core experience remains focused on shared user content and discussions.
Pricing Tiers
Reddit is free to use and access. Some subreddits offer premium features for a fee, along with ads.
Pros
Highly engaged niche communities

Access to a large existing user base

Passionate user generated content and discussion

Anonymity allows for open sharing
Cons
Very limited native community monetization

Dated design and dense interfaces

Inconsistent moderation across subreddits

Not ideal for branded community experiences
Use Cases
Reddit shines for facilitating open discussions around topics from general interests to highly specific hobbies or fandoms.
Key Takeaways
Reddit remains a lively home for shared passions, but shows its age regarding modern community features and customization.
9. Thinkific
Thinkific positions itself as an all-in-one platform for creating and selling online courses. But how robust are its community features? Let's evaluate Thinkific for community building.
Best Features
Thinkific offers:
Intuitive course authoring tools

Basic community discussions

Ability to gate some content

Live events and member tagging

Limited branding and integrations
However, community capabilities remain basic compared to dedicated platforms.
Pricing Tiers
Paid plans start at $36/month for core features. More advanced plans scale up based on the number of courses and members.
Pros
Easy course creation and selling

Allows content dripping and cohorts

Great for individual course creators

Decent platform ecosystem and support
Cons
Very limited native community features

No custom themes or white-labeling

Can't segment members or content

Locked into Thinkific ecosystem
When Does Thinkific Work Best?
For course creators without needs for an integrated community platform. Those wanting to build communities beyond courses may find it lacking.
Key Takeaways
While great for selling courses, Thinkific lacks critical tools to build a thriving community online. You can use it as an addition to your online courses business though, and use its limited community features to drive some sales.
10. Zapnito
Zapnito markets itself as an enterprise-level community platform for major brands. But it has limited features for broader community building needs.
Best Features
Zapnito offers:
Advanced content publishing and management

Networking features for member connections

Community analytics and reporting

Virtual event capabilities

Some monetization options

Custom integrations
The focus is on branded content, networking, and analytics.
Pricing Tiers
Zapnito does not disclose pricing publicly. Custom enterprise quotes are provided based on needs.
Pros
Robust content tools for companies/organizations

Capabilities for large scale communities

Customizable integrations and solutions

Expert strategic services included
Cons
Expensive enterprise pricing likely out of reach for many

Limited native community engagement features

Steep learning curve for content publishing system

Not ideal for nimble community creators
Use Cases
After going through the demo, we feel like it is more apt for large organizations who want to centralize their otherwise scattered initiatives. It is good for creating a master branded community hub with advanced analytics and integrations.
Key Takeaways
Zapnito excels at enterprise knowledge and content sharing but is overkill for most basic community needs. For more accessible and engaging platforms, explore options like Nas.io.
Conclusion
That covers our in-depth look at the top online community platforms. By now, two things are clear:
Online communities are the key to growth in 2023;

But you NEED to have the right tools to build a THRIVING one
We reviewed and extensively compared various online community building platforms. And based on your community building needs, you may find one or a combination of these apps and softwares helpful.
But if we have to choose a platform that lets you build the A to Zee of community, Nas.io truly stands out. It is the easiest platform out there to help you get started. And it is the only platform that stays free till you truly monetize your dreams.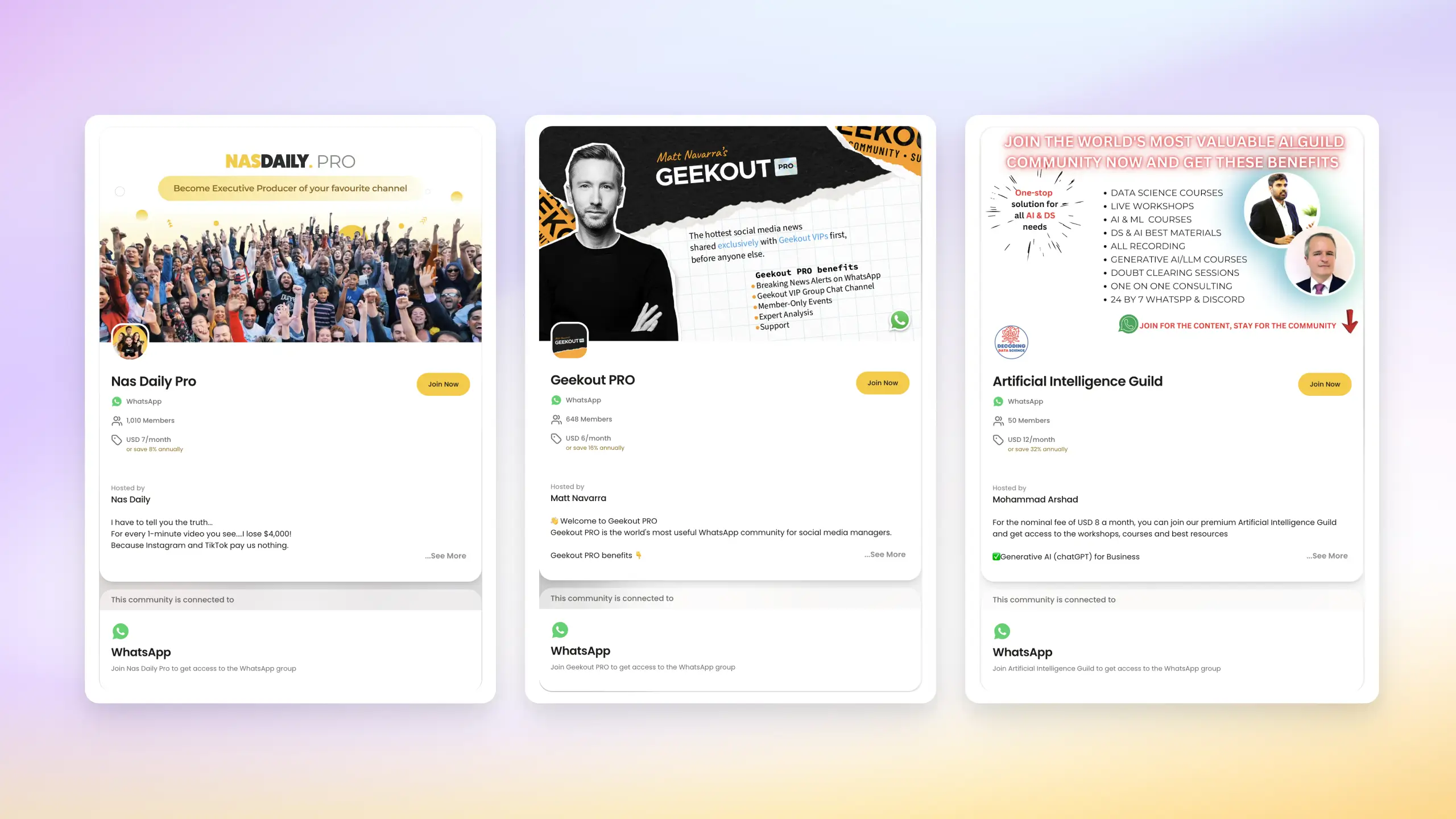 Nas.io was created for creators, by creators who want to empower other people with meaningful online communities. No more dealing with a patchwork of tools not meant for you. No more lackluster results from your hard work.
Nas.io lets you stop struggling and start STRIVING. You supply the vision – we'll hook you up with everything to execute it!
Sign up on Nas.io for an all-in-one solution for managing and monetizing your community. There is an entire community of "been there, done that" creators waiting for you!
Set up your community on Nas.io—start for free.
FAQs
What is a community-building platform?
A community platform gives you an online space to unite your people! It's the tech toolbox that lets you rally your tribe around shared interests, collaborate, and bond. Good ones make it easy to engage members with discussions, content, courses – whatever brings your community together.
What is the best way to build a community?
Bring the value! Share your expertise, facilitate meaningful connections, and nurture your community over time. Use data to guide your moves. Offer premium content or courses to supercharge engagement. And don't forget the tech – the right community platform makes it all seamless.
What platform do people use the most?
The biggies are Facebook Groups, Slack, Discord, and Reddit. But for customizable, creator-focused platforms, many are turning to options like Nas.io, which even lets you manage the biggies!
What are the different types of platform examples?
Great question! Communities come in all shapes and sizes. You have:
Discussion forums for topic-based chatting

Social networks for member connections

Messaging platforms for real-time conversations

Course platforms for premium content

Traditional social media like Facebook Groups and Reddit
The good news? You don't need a different platform for every model anymore.
Nas.io brings the best features of each into one integrated community hub. Need courses? We got you. Private member areas? Covered. Robust discussions? Check.
Whatever your community style, Nas.io provides the tools and customization to make it work.
So whether you want to host a forum, membership site, content platform, or something totally unique, Nas.io can power your vision.
We bring together everything you need in one creator-focused package. Stop juggling disjointed tools – let Nas.io be your all-in-one community solution.