Online communities are becoming the #1 focus of brands in 2022 – meaning community managers are playing a key role in brand success. With 88% of surveyed community experts claiming that growing online communities is important to accomplish any company mission, different communities in all industries are being launched left and right. To get you a head start, we've prepared an ultimate guide on community management that will help you get started.
Because not only does it increase engagement with the brand – it increases a sense of connection and overall loyalty. 
With that said, community managers are becoming a sought-after role in today's media landscape. 
Start your own community today at Nas.io and work with our team of expert community managers.
This article will cover: 
The role of a community manager

The difference between social media management and community management

How to become a community manager and master community moderation

How to host virtual events

Must-have tools for community managers

Web3 community management tools
Understanding Community: What Does it Really Mean? 
The best way to begin your journey to becoming a community manager is not only understanding the value of community, but also understanding what your role will be – and what the true meaning of community actually is.
Community is often a word that's misunderstood by a lot of people – especially those in early stages of branding.
Many think that community is about growing profits or building an emotional connection through ads and marketing…
But here's what community's really about: bringing people together. 
When you build and manage a community, you are creating a space where people can:
Interact with each other and not just with the brand

Share their passions and interests

Rely on each other for support and feedback

learn from one another and grow together
A community is where managers give more value than they receive.
Most importantly: It's a place that creates long-term value and connections for everyone involved.
A true community is one that, once you eventually leave, you take with you the connections you made and are considered a part of the group. Think of American sororities – even when you graduate, you always remain a member at heart and are welcomed back with open arms.
There are different types of communities out there today – some we are born into (whether it be through religion, geography, family), and some we choose to join based on our passions and goals. 
Regardless, communities are groups of people who all have the same goal, similar passions, and who are often lead by someone that guides the group towards reaching their goal – while making sure everyone has a positive experience.
That's where community managers come in.
Having that strength of connection between people is what makes a true, long lasting community that can stand the test of time and help people excel in whatever they want. 
Now, you might be thinking: 
Wait, isn't that basically what social media does?
And the answer is: 
Not exactly.
There are actually many differences between social media and communities. There's a difference between building and managing an actual community, versus building a sense of community. 
And it's important to understand the difference before becoming a community manager. 
Social Media vs Communities
You might think social media platforms are considered community building platforms – but this is far from the truth.
While social media sites like Instagram and YouTube allow people to communicate with other followers, share their passions and learn from each other – the interaction and engagement is limited to the comments section and "like" or "share" buttons. 
Social media is still very much a "creator-to-viewer" model. 
Followers cannot reach other followers as easily as the creator or brand can. They can only post on their own channels.
On the other hand, community-building platforms let community managers and members alike post content, updates, and collaborate with one another in the same space. They allow them to chat privately or publicly with other members, and connect through events.
Communities are a "viewer-to-viewer", or a "many-to-many" dynamic.
Even though social media is interactive and creators can include fans in their discussions or content choices, there is still a stronger power dynamic between two parties. 
After all, on social media, the followers "follow" the creator, and the creator "has followers". There are limited opportunities for community members to intervene with their opinions – because discussions have to be started by the creator or host of the platform. 
Meanwhile in a community, everybody has the opportunity to post anything they want, whenever they want. 
Now that we understand the difference between a social media platform and an actual community, what's the difference between the role of a community manager, and the role of a social media manager? 
Community Managers vs. Social Media Managers
Social Media Managers
Social media managers are hired often by businesses or brands to help them manage their social media channels. 
This means they curate content, engage with users and followers, track metrics, and schedule posts. They act as a "brand" trying to sell brand products or services. Their role includes tasks like:
Tracking and reporting on analytics

Creating and posting content

Monitoring and responding to comments

Driving sales through organic and promotional content 

Curating profiles and establishing brand voice 

Scheduling content

Growing followers, views and engagement.
Community Managers
Community managers have a lot of the same duties as a social media manager does. However, their main focus is what sets them apart. 
Community managers don't focus on just building the brand – instead, they focus on curating a community experience.
Some of the roles associated with being a community manager include:
Being the connection or "liaison" between the brand mission and the audience 

Spotlighting others, encouraging others and offering support (not being the main focus of the community)

Establishing tone and voice of the brand 

Making sure that people are engaged and learning

Monitoring and coming up with ways to improve engagement and experience 

Addressing people's opinions and concerns

Curating content and ideas to add value to the community 

Chiming in on member posts and moderating discussions 
Being a community manager is much different than being the creator behind an instagram or YouTube platform who posts and likes people's comments. 
They don't only look at how many of their own posts people are liking and sharing – they look at how people are engaging with each other.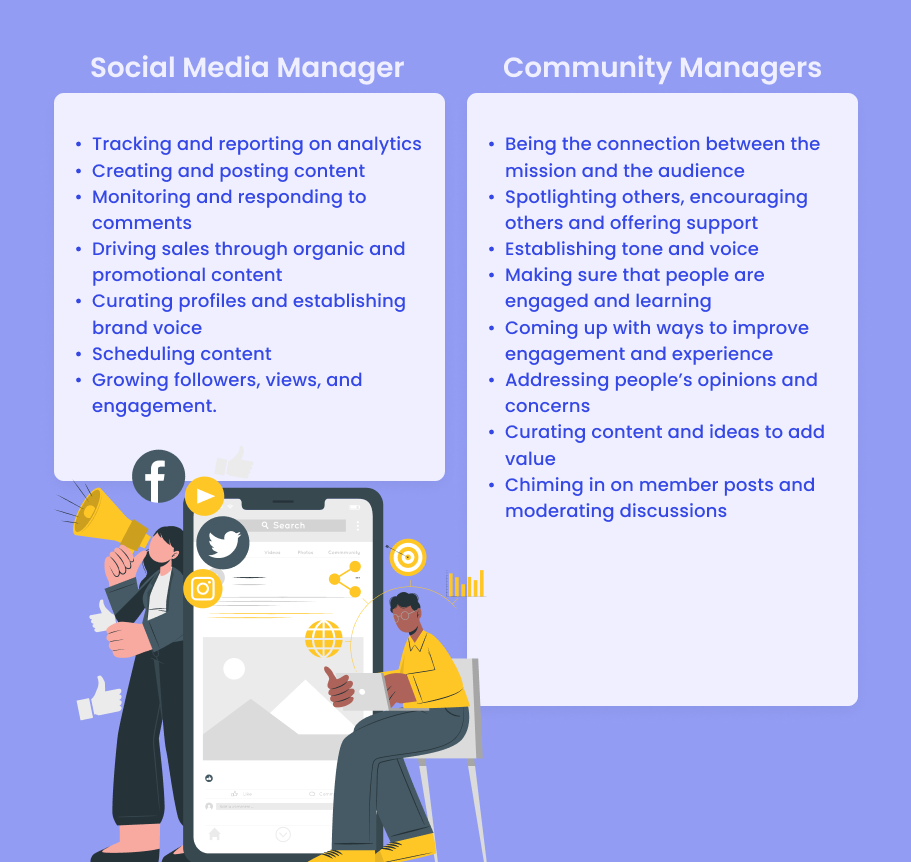 Why host an online community for your brand? 
Diversify your revenue

Understand your audience better

Build deeper connections

Expand your network 
Communities come in many different forms – and you may even be part of one today. However, creating a community of your own through a community-focused platform online about a topic that you're passionate about could be the next best way to grow your brand.
Here's how:
Especially if you are a creator or entrepreneur, building an online community is a great way to build a new income stream. You can do this through giving early access or discounts to products you're selling, charging a subscription fee to join the community, or putting prices on extra educational content or resources available in your community.
Help you understand your audience better
When you build a community, it's much easier to get real input, feedback and people's ideas on what could make your brand better, and improve their experience interacting with you. This, in turn, makes your job much easier. It lets you know how you can create a bigger impact, gives you industry insights, and helps you build loyalty with your community. 
Beginning a community online allows you to grow a deeper connection with your followers, or any fellow creators who join. This helps build people's loyalty to your brand, meaning they will be there for you when you need them the most. In short: when you grow your connection with followers, you grow your number of friends.
Especially with growing an online community, you have the opportunity to grow your audience beyond your locale. You can get people to join you from all across the world.
Having an online community allows you access to different perspectives, more people to network with and even more job or creative opportunities you would otherwise never know about. This means you will give a richer community experience to your members – and you'll have a chance to impact a greater number of people. 
A step-by-step guide to community management
How to master community management
Establish your goals and mission

Know your community platform well 

Hone in on your people skills 

Build engagement through curating original content 

Host regular virtual events 

Nail down your network 
1. Establish your goals and mission
Before you start managing a community, make sure that you understand your "why".
Knowing your goals and mission behind your community is what will help you build the best experience possible for your members. It will help you decide on everything from how to structure your community experience, what events to hold, what content to share, what tone of voice you use in discussions, all the way to what kind of budget you are on and whether or not you want to charge subscription fees.
Not only this, but knowing your "why" will help you with marketing your community. People want to know that there's a strong reason and passion behind your community. After all, they want to know why they should join, and what they'll get out of it.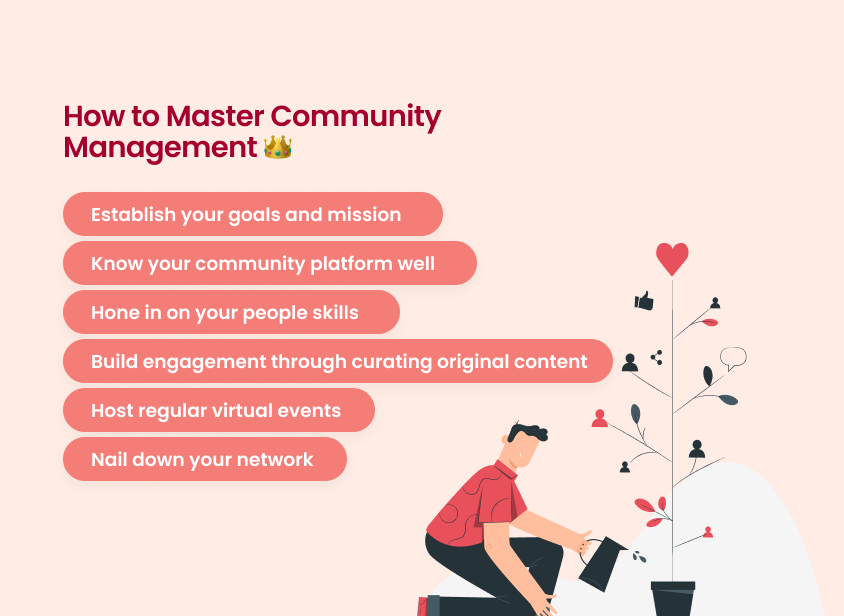 2. Know your community platform 
Another important reason to nail down your goals: picking the right platform. 
There are many different community-building platforms out there, and they all have their own perks. Picking the right one and mastering it is key.
On the other hand, if you are assigned to a platform, make sure you understand it from top to bottom. Here are a few community building platforms that are geared towards building a strong, engaged community: 
Discord
Discord has been growing in popularity in recent years as one of the top community-building platforms. People from all different industries, all over the world are using it – from educators, content creators, entrepreneurs, gamers and especially Web3 communities (more on that later).
Discord has features to help you keep your community organized with their different chat channels, it allows voice or video calls, and public or private chats. Here are a couple beginner tips to help you manage your community on Discord:
If you want to expand your pool of managers or moderators, choose people from your list of most active members. This way, you know the people in charge of your community are truly passionate and knowledgeable about the space.

Create rewards systems as an incentive to get people to increase engagement.

Make sure you have your "user rules" laid out clearly in your first chat so that everyone is on the same page of what's acceptable and not acceptable in your community.
Nas.io
Nas.io is a community-building platform focused mainly on community-building and peer-to-peer learning. It's great for both beginner creators and businesses as it has free options for smaller communities, and expert tools for larger communities. It's easy to use and also offers tools to help you upload your own course videos, analytics tools, monetization tools, and has tons of integrations available.
Mighty Networks
Mighty Networks is a very popular community-building platform that prioritzes learning over everything. It offers a great community experience with a high focus on courses and education – and even has an in-platform class builder to help you share educational content. It offers different plans depending on your community size, and has a lot of opportunities for monetization.
Circle
Circle has a huge focus on community building as well, and offers a more customizable interface than many other platforms. It's also very easy to use, and has something for every community size. If you are looking for an intermediate option for simple community-building that offers ultimate control over branding and customizability, Circle is a great option.
Make sure you know to use all of the relevant tech and comms channels from social media to integrated chat functions. After all, community managers have to be masters of their platform, and great communicators.
3. Hone in on your people skills 
Chances are, if you're interested in starting a community or managing one, you already have a lot of the skills required to do it successfully.
But it's a good idea to hone in on certain skills and really look at what the job is going to require of you before diving in. Some important skills and required characteristics of a community manager include:
Good communication 

Public relations

Social media management 

Event planning and management

Content creation

Storytelling and writing 

Sales and marketing 

Adaptability, personability and conflict resolution skills
Make sure you hone in on these skills, and if you can, get some free certifications or take some simple classes online to help boost your credibility and experience.
The most important parts of being a community manager is being good at talking to people, and creating an experience that adds value. 
4. Build engagement through curating original content
Creating value-driven, organic content is key in creating a positive experience for your members.
With every decision you make as a community manager – always think about building engagement. People won't stay or even join your community to begin with if there isn't an engagement piece that outweighs other communities or free online classes.
Host virtual events, provide free, value-adding content, upload course content, host Q&A's, or do panel discussions with industry leaders. There's plenty of ways to curate content and create engaging experiences for your members – but make sure you're consistently creating new content and opportunities to ignite discussion, and encourage participation.
A big problem that some community managers don't realize is that you can't just create a community and leave. 
You have to be just as active as the members are, and keep the community going when it lags. Don't just respond to comments and engage with other member's posts, but actually create some of your own and drive interesting discussions.
Show your interest, passion and dedication to the group – and in turn, others will do the same. 
5. Host virtual events
Virtual events are an extremely important part of curating experiences and encouraging engagement. But most importantly: it helps people feel closer to you, and closer to each other. 
Host regular events on whatever platform you have available to you, and get as much facetime – or at least voice time – in as you can. This could be through Discord, Google Meets, Zoom, Twitter events or whatever you want. 
But how do you host a good virtual event that will keep people coming back? Here are some beginner tips to get you started: 
Be over-prepared

– know your platform well, and run a test before you go live. This way, you can be sure that you're not going to waste anybody's time trying to figure out how to share your screen properly.

Send out enticing invites – 

part of hosting a successful event is getting people hyped for it, and making sure they actually turn up. Invite members well in advance, make it sound exciting, and offer some kind of reward to encourage people to actually show up and make the event a success. Keep in mind: people are busy. If you're taking up some of their time, make sure it's going to be worth it. 

Get creative

– getting people to turn up is step 1, keeping them engaged throughout the event is a whole other battle. Get creative with your events sometimes so it's not always the same thing. Experiment with new tech like the metaverse, host an interactive game at the start or do exercises that will spark discussion. 
6. Nail down your network
Networking is a terrifying word for a lot of people. But the truth is: being a community manager means you have to be willing to put yourself out there. 
So if you haven't yet – start honing that skill now!
Get active on LinkedIn, join freelancing sites, connect with people who have similar interests, and build your own website. Taking charge and creating avenues for people to network with you is not only going to help you find gigs as a community manager, but it builds up your credibility if you're starting a community of our own. 
Networking is how you pull people into your community, and how you can find relevant and valuable voices that could add to your community experience. Joining other communities or a mastermind group is also a great way to nail down your network and work towards your goals – in fact, it's probably the greatest thing you can do if you're going to be a community manager! 
Joining other communities and networking helps give you insight on how others are running their community experiences. They might have advice for you, you can get unique ideas, and you can see for yourself what's working, and what isn't.
Must-have tools for community managers
Now, before you go out there and start managing communities – there are several tools out there that are going to make your job much easier. 
Aside from the many community-building platforms we talked about earlier, here's a short list of other handy tools to add onto your system so you can create the best experience possible:
Hootsuite

– There are tons of social media marketing tools and analytics platforms that can help you in your marketing efforts for your community. But one of the leaders in the industry is Hootsuite. This platform helps you schedule content, monitor analytics, respond to comments, and share posts through all of your social platforms – all in one place. It's a simple way to keep track of your audience, other brands, and how your community marketing is performing.

Notion

– Notion is a great way to keep your own behind-the-scenes work and schedules organized for free. It allows you to write documents, spreadsheets, trackers, share certain pages with your community members to collaborate, and keep it all organized in one place. While it's similar to Google Drive, Notion is more focused on organization, collaboration and has intense customizing opportunities.

Brand 24 –

This tool helps you keep track of any brand mentions or talks related to your industry. It helps you keep up to date, find content ideas without having to spend hours filtering through research, and lets you know if something significant about you or your industry has popped up in the media somewhere.
Building a Web3 Community Experience 
All of the community talk up to this point has been geared towards communities hosted in the Web2 space – ie. the regular internet as we know it. 
But what about Web3? 
Hosting a Web3-focused community is going to be relatively similar to hosting a Web2 experience with some minor differences. Platforms that host Web3 communities should: 
Let members pay in cryptocurrency,

Allow members to host events in the Metaverse

Have built-in token-gating for events,

Allow NFT profile pictures,

Integrate with other Web3 platforms.
Although the foundations of building a community are pretty much the same for both Web2 and Web3-based communities, you have to know the Web3 space really well in order to be a successful community manager. 
There is a lot of unique slang and language differences that you'll have to keep up to date with, and some of the tools might vary. In addition to Web2 ones already mentioned above, here are some Web3 specific tools that will help your community experience stand out: 
The Metaverse –

You can visit websites like Decentraland, Cryptovoxels, Sandbox and more to host an event within the Metaverse and engage your community inside the world of Web3. The best part: your creativity is the only limit. This is an important part of what helps differentiate a Web3 experience from a Web2 experience.

DeWork –

This platform is considered to be "the LinkedIn for DAOs". They just raised $5 million in 2022, and are a great platform to connect people together in the Web3 space. It matches people with certain skills to different DAOs out there. This is a great way to find community members, keep up with what's happening in the industry, find new projects, and even build a team of your own to run your community. 

Kickback

– While charging ticket prices is usually how you incentivize people to show up to events, Kickback offers a unique, Web3 alternative. When your members RSVP to an event, it costs them cryptocurrency. And if they don't show up, they lose it all. But for the people who actually do show up, they get rewarded with the pool of crypto left over.
Build a Community with Nas.io
Building a community can be overwhelming – and managing one afterwards can be even scarier. That's why if you're looking for a forward-thinking platform to build your community on, start with Nas.io.
With Nas.io, you don't have to worry about your budget being big enough to help spread the word about your mission. You can build a customized space for FREE where you can create opportunities for growth, connection and learning – and our series of user-friendly tools will help you bring that vision to life. 
We are a platform directly committed to building functional, collaborative communities online for your brand. Whether your want to start a community for fashion, sports, writing, Web3, NFTs – anything – Nas.io is the place to start.
Reach out to our incredible support team and learn how to start your own community today. We'll be with you each step of the way.