You asked, and we listened. And here it is: Nas.io's brand new Events Page. 
Your events pages don't have to be boring. We've given you full customization of your event pages so you can make them look as exciting as you like. 
Sound like a lot of work? We've designed this tool so you can set up a beautiful event page in under 5 minutes. Just give us some key details and we'll do the rest. Simple.
This tutorial will explain Nas.io's Public Event Feature Page, and how you can create your own for your events. 
How It Works
Setting up a community event is easier than ever before and you do it all in one place — no extra links or third-party apps. 
Once your event is organized, it's time to send out the invitations. 
You'll get a link to your Public Events page to share. You can customize this link however you like. 
Think of your Public Event Page as a flyer for your event. We've given you the tools to customize a header image, the title, and the description of your event. Anyone can view this event page, even if they're not a part of your community. 
Benefits
Invite people into your community from an event.

Market your community using an event.

Instead of entering the community and then learning about an event, people outside of your community can see what's on offer.
And now you can create an event, sign people up, and see the attendee list all in one place on Nas.io.
Here's how.
How to Set-Up Your Events Page
Go to your community portal and click on Events.
Click "Add Event"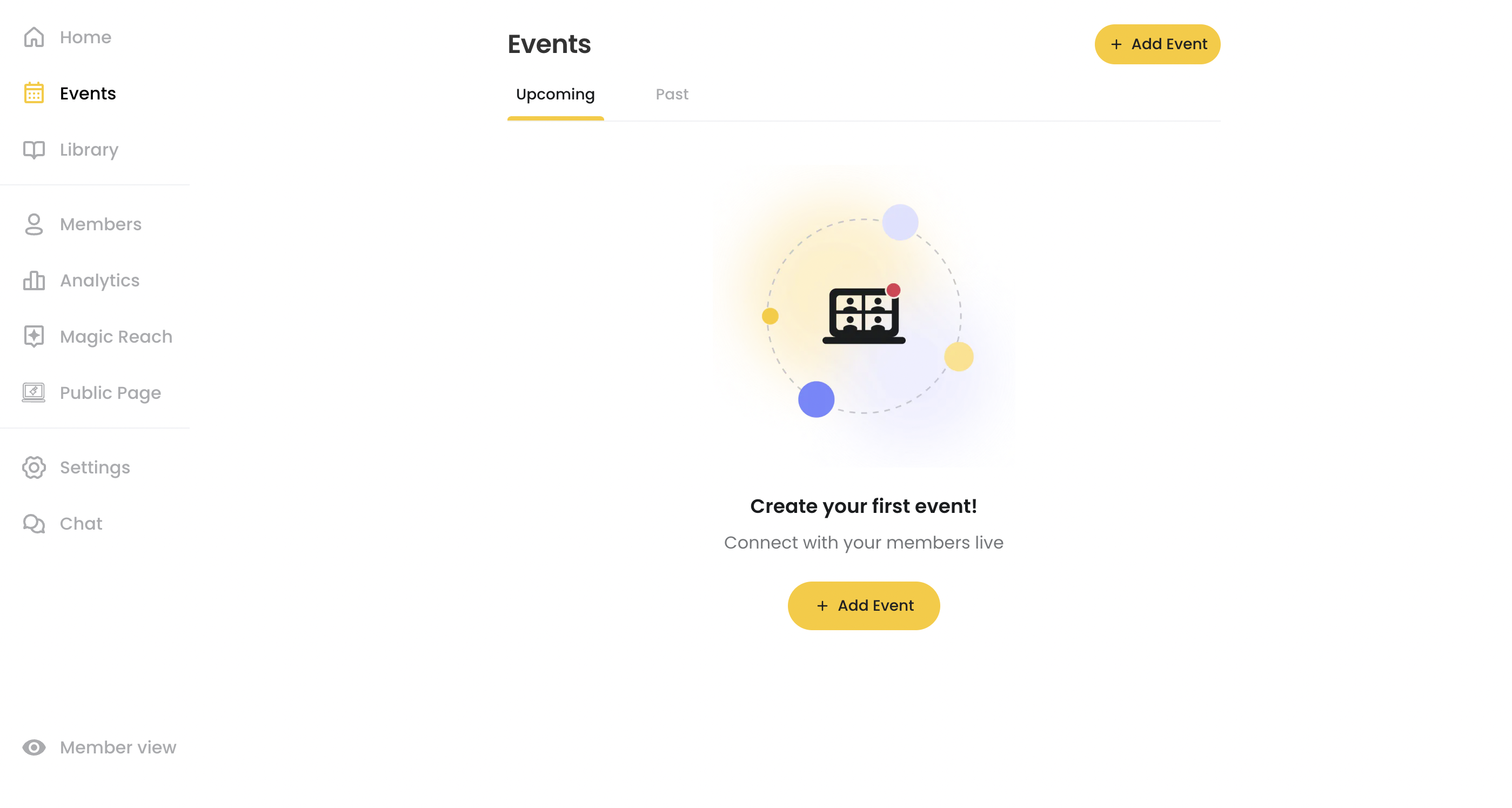 Fill in the details of your event and add a header picture (optional). You can upload your own one or use a pre-made Nas.io header image.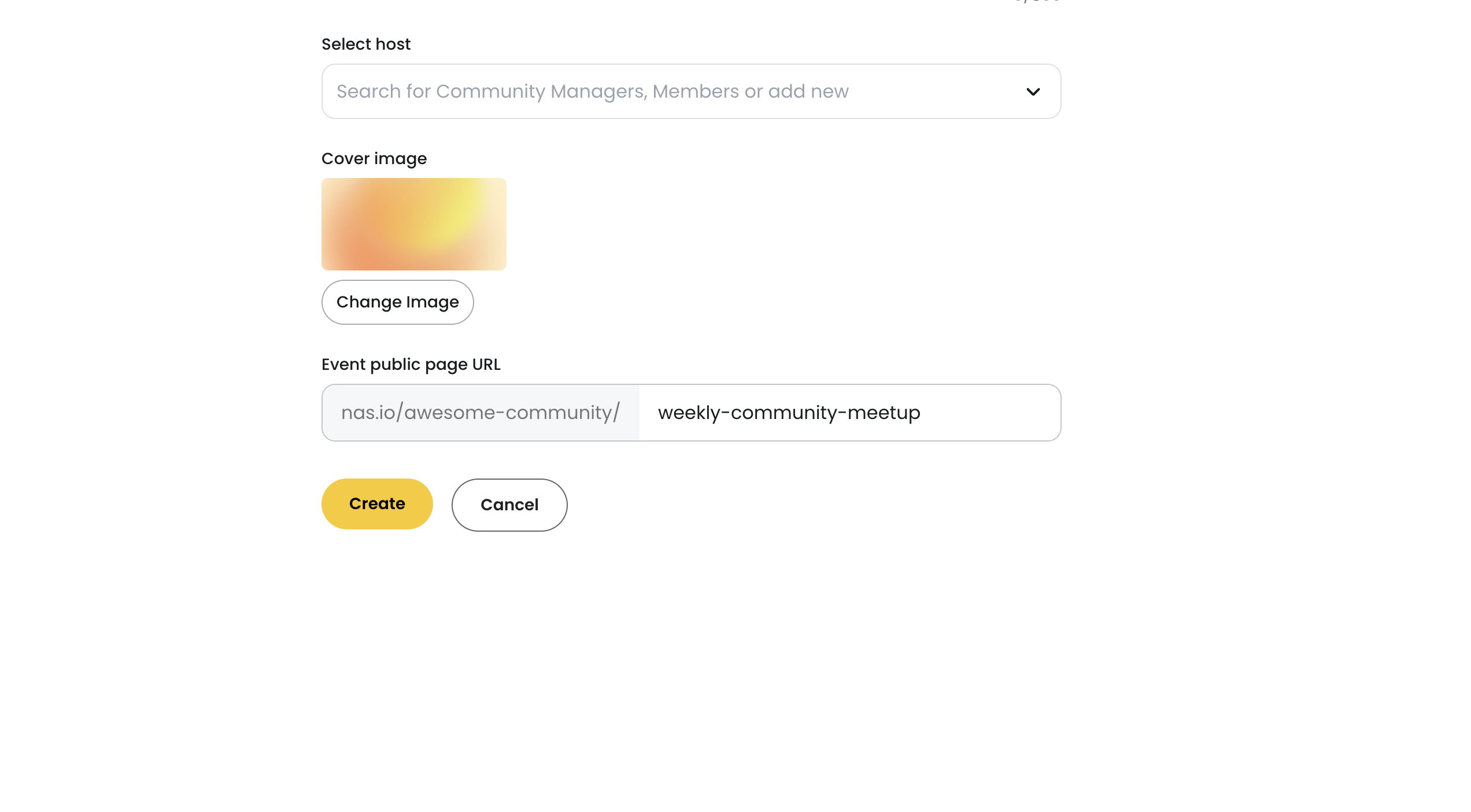 And that's it! Your event now has a beautiful home to share with others, in just a few steps. 
Tips and Tricks
Creating a description 
The purpose of a description is to grab attention and inform visitors to your page about your event. It needs to be: 
Short and sweet

Informative 

and catchy
Here's an example: 
Come together to solve your content blockers and challenges about workflow! Listen in, share your thoughts, and give advice to other members of the community to help each other become better creators today.
Add a banner image
If you do want to use a banner, you can upload your own image OR use one of the free templates we have available. 
If you want to create your own banner, here are some ideas for what you can do: 
Use only large, easy to read text. 

Pick one single, focused message. Even if your event covers a variety of topics, pick one to focus on.

Include a call to action — something the reader can do after they've read your banner. It can be as simple as "Sign up below". 

Use a relevant image, and don't pick something that makes your text difficult to read. Simpler is better. 

Use bright colors to draw attention. 

Use minimal text to get your message across. 
Your Event Title
If you're stuck on deciding on a title for your event, try going with the TYPE of event as the header. 
Here are some ideas
Fireside Chat 

Monthly Challenge 

Q&A 

Movie Night 

Workshop #XXX 

Game Night 
We hope this makes your community building experience better than ever before. If you run into any problems, reach out to your account manager, or email hello@nas.io so our team can provide you with technical support.