When you begin a community online, the most important thing you can do is learn how to market it properly. If you don't, chances are your community will have very limited members, and people will eventually start losing interest. Marketing a community is one of the most important tools you have to build engagement and grow your audiences.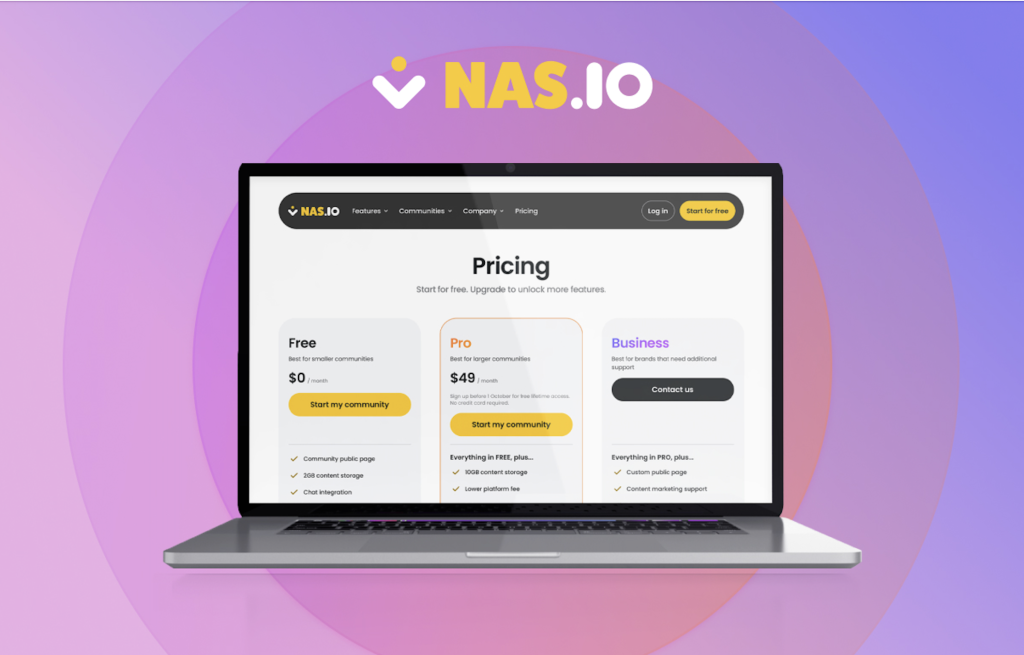 If you've yet to begin building your community or are looking for an all-in-one platform to help you get started, do it here at Nas.io.
Building a community in this day and age is simultaneously easy, and extremely difficult. There are so many ways that you can market your community and reach people from all over the world – but that also means there's a lot of competition. 
So how do you market your community to make sure you stand out enough to grow online? Here are 10 steps to help you get started.
How to Market Your Community in 10 steps
Establish your community as a business or brand 
Even if you're not generating revenue through a subscription in your community, it's important to treat it just like you would a product or business. So where do you start? First, if you've yet to start building a community of your own, find a good platform to build your community on. 
Establish your mission:

Lay out your goals, mission and reasoning for beginning your community. Have a clear elevator pitch and focused mission statement that you can return to whenever you feel like you're going off track.

Target a specific, niche audience:

Figure out who you are selling this community idea to, and build up some detailed user personas.

What is the best way to reach them? Why would they be interested in your community? What are their pain-points, dreams and personalities? Be as detailed as possible. 
Establish what makes you unique:

The best way to do this is to niche down to a specific community that you want to help, or really play on your unique perspective and voice to drive your community experience.

Build a brand board:

Keep your brand consistent across the board. Use familiar language, color, fonts and tone throughout your community experience. This way, when people come across your content or marketing materials, you will inevitably build a presence and familiarity within their minds – making them more likely to join your community down the line. 
Once you establish all of this key information, then, every time you make a decision while building your community, ask yourself: 
Does this support my focus, or conflict with it? 
Encourage existing members to be your advocates
If you already have some members in your group, this means you already have a team of super capable and useful marketers to help you get even more signups. Encourage your members to share their experiences on social media, create videos, take pictures and share their journey.
This is not only a great suggestion to help them build their own presence and credibility online for future career opportunities (especially if it's within the media industry), but it's also good to spread the word about your company, and help friends of friends learn about it and be more incentivized to join. 
With so many products being launched and marketed on your feed everyday, it's hard to know what's really worth investing in. That's why people tend to trust what they know, and that's why influencer marketing is so effective these days. 
So, remember: your members are your best advocates. Use them.
Create a hashtag 
Creating a hashtag is an incredible tactic to build awareness and engagement around your community. This way, whenever you or someone from your community shares content online related to your community, they can use the hashtag. This will then create a searchable page of your communities content, and make your community more discoverable.
When you create a personalized hashtag for your community to use, try creating one with keywords that have high search traffic. This can help improve your brand's discoverability. 
Encouraging your members to use the community hashtag when they share posts about their experience, it makes their advocacy even more effective. It also builds word of mouth which is one of the best ways to market your brand today.
This is especially true if you are able to get some high-profile people to join your community. If you can get them to spread the word about your community, your reach can grow exponentially. If you do have any high profile members, you should also make sure to highlight this in your marketing materials to make it look even more attractive to potential members.
Start a newsletter
Whether you send an email daily, weekly, bi-weekly or monthly – start writing a newsletter to build an audience. Newsletters are incredibly effective ways of building a connection with audience members, because they're sent directly to your followers, are often personal, informally written, and share your unique perspectives in a short, easily digestible way. 
This can be a place for you to start building credibility in the space you're building a community in. You can also give out free tips, advice, insight, research and more so people will see you as someone who's sociable, genuinely knowledgeable and committed to the space. 
So how do you get started with a newsletter? You can sign up today with platforms like Substack, where your posts are also shared on a public platform (almost like a blog post) so people on the platform can discover you. Or, you can start a newsletter with a more technical email marketing software like Mailchimp or Klaviyo, and share it on social media to get readers.
This can also be a great tool to help you funnel readers into community members. Create nurturing emails where you provide freebies every once in a while, exclusive look into your community, and always link to your community in a call-to-action (CTA) at the end. 
Build up your social media presence
Social media is similarly effective to newsletters, but it has a much wider reach. Often, social media platforms are easier to grow a following on than a personal newsletter. Social media as a whole is an accessible and engagement-rich way to connect with people and build a mini community, before going off and building one of your own on a different platform.
Pick your best and favorite platform, build up your profile to fit your community brand, share the link to your community in your bio – if you have already started building it – and focus on creating viral content. This means you have to be vigilant and follow trends, do your research and find songs and audio on Reels and TikTok that are trending. 
This is how you can get your content and brand seen, and attract tons of possible future members. You can also start building connections with possible members through blogging or vlogging your journey, sharing them on socials, posting updates on your most relevant platforms and creating engaging, interactive content on a regular basis.
Network in other communities
While you build a community – it's also important to start joining other people's. No matter what kind of community it might be, even if it's just an open Facebook group, start commenting and making connections on the platform. Network with like-minded people, answer people's queries, and start pinning yourself as an expert in that space.
This is also very useful if you're new to the whole community marketing and community management scene. Joining other communities is where you can observe, and learn from others who are doing it already. 
Build a trailer video
Video is key in marketing. In fact, 93% of marketers saw new customers because of video marketing, and this year, it's expected that 82% of all global internet traffic will be coming from online videos. 
So, invest in creating a short, personable and easy-to-digest video about your community. Try and condense it into 1 minute, use trending sounds, and accompany it with subtitles to convey your message to as many people as possible. And most importantly: make sure that it's on-brand for your community.
Send invites to people that you know 
Although it might be hard or sound slightly desperate to tell your friends and family to be the first joiners of your community – but it's actually an incredibly smart move. 
Get people you know to join your community, share it on their social media, market it for you, and encourage their friends to join. This is how you start to build word of mouth. It takes an average of 7 times for someone to see a product or service before they decide to consider it. 
Getting your friends and family on board means you get plenty more exposure, and free advocacy than if you were just doing it yourself. And the best part: your family or friends will most likely do whatever you ask out of love because they want to support you. 
Highlight your communities value
When trying to market your community, it's essential for you to give people enough incentive and give them enough value in order for them to be interested in joining. 
Ensure that you have enough incentive in your community to attract potential members to join. Come up with your strongest value points, make sure to show proof of the experience you're offering, and give them something extra. Some ways you can do this are to: 
Use lead magnets

– Lead magnets are a bonus product or piece of content that you offer to your audience in exchange for their signup. Lead magnets can work very well especially if it's something of value that you're offering, and there's an element of scarcity attached to it (either a time limit or a limited amount available). 

Sharing success stories online

–

This is also called sharing "social proof", and it's a very effective tactic for convincing people to join a community or invest in a brand. Share social proof by sharing quotes or video interviews of people's stories, and their experiences within the community. Showcase member successes or simply re-share posts they've shared on their own feed. This helps make your community more relatable to potential members, because they can see others like themselves in the group.
Free giveaways
Sharing free products, experiences or content is a slightly different tactic to giving out lead magnets. With free giveaways, there is no requirement to sign up for anything in order to get the free bonus content. It's simply you providing value at 0 cost. 
In order to convince people to give you their time or money, they have to know you value them and the community as well – and sometimes that means working for free. But the good news is in the long run, it could convince people to join.
Some ideas for free gifts you could provide are:
Videos with free tips

How-to guides 

Printables with checklists, guides or hacks

Research notes and statistics

Discounts to products or services 

Sneak-peek content/resources from your community
Paid ads
Once you've gotten more established as a community, and have more of a consistent marketing budget, you can look into creating paid ads to help market your community. Paid ads, for a lot of brands, tend to be one of their highest returns on investments. 
Build your community with Nas.io
Nas.io is becoming the next best platform to build your community. We offer integrations with apps like Discord, WhatsApp and more, and provide a support team of expert community builders from all around the world. 
Nas.io is the place to bring your community to life – start building today.