If you're wondering how to keep your community members engaged and coming back for more, you're in the right place! This article is all about content, what it is, how to create it, and how you can use it to maximize the value of your community.
Providing value gives your members reason to stay and helps your community grow. Content also gives you the chance to flex your creative muscles to educate and entertain no matter what kind of community you host.
And giving your community a steady stream of content is one of the best ways to build a community that's sustainable and continues to grow. We've gathered some of the best ways to do that so that you don't run out of ideas and can overcome any creative block that gets in your way.
This article covers content you can upload to Nas.io's Library, Events, and Announcement pages. Head over to Nas.io to learn more and create your own community for free.
Your Type of Community
Creating content for your community can be intimidating, especially if you look at other communities and see video courses, files and files of resources, and interviews with some of the top VIPs in the industry.
Don't worry! You can get there, but what's important to remember is that you need to start small. Like everything else, creating value becomes much easier when you break it into small, doable steps.
The first thing to consider is what kind of community are you managing? This will lead you in the right direction when deciding on the type of content that will appeal to your members and that's appropriate for your industry.
And while we just said to not compare yourself to others, an incredibly helpful thing to do is to look at other communities like yours for inspiration.
Are they creating courses? If so, are they video? Are there virtual classes? What kind of events do they host? Do they ask for feedback from their community?
Create a Course
You don't need to be a professional teacher to create online courses! Folks at Nas.io live by the saying "Those that do, teach."
The best teachers are those who are active in their fields, no matter what that is. Education is evolving as online tools improve and it's become a wonderful way to add value to your community.
Here are some tips to get started on creating your own video course.
Pick a topic relevant to your community
Obviously your course has to be relevant to your community. If your community members are there because your community is all about cars, they probably won't find a course on plants to be very helpful.
Also pick a topic that you're passionate about and already know. Passion for your subject means you're unlikely to experience burnout or creative blocks while building your course.
Do your research and be as thorough as possible so that your information is correct and in-depth. And present it in ways that are interesting and exciting! This is where inspiration from other courses comes in. Think about the ones you loved, and the ones you hated. What about them appealed to you, and what didn't work? Think about it, and integrate them into your own course when you start building.
Plan your course content and structure
Plan exactly how many lessons your course will have and what you want to cover in each one. Make sure each lesson has an introduction, middle, and conclusion. Repetition is good for learning, so introduce the material and reframe it throughout your videos and your course as a whole.
Once your course outline is done, write a script of exactly what you want to say in each video. Your script is vital when creating videos, so you want to spend some time on it and make sure it's exactly what you want. Read it out loud to yourself and a volunteer to see if anything sounds weird or to catch any mistakes.
Film and edit
You have a couple of options here, but the two most popular are to record your screen with voiceover, or to film yourself speaking to the camera.
Whichever you go with depends on the topic of your content.
Post it
Time to upload your course! You can upload your video files directly to your content Library on Nas.io. Include a title and description for each course and video lesson, and you're good to go!
Original Worksheets and Resources
Worksheets and resources are a great way to supplement video lessons and help reinforce learnings.
You can upload your worksheets and resources to your Library in collections, so everything stays organized.
Creating Quick and Simple Content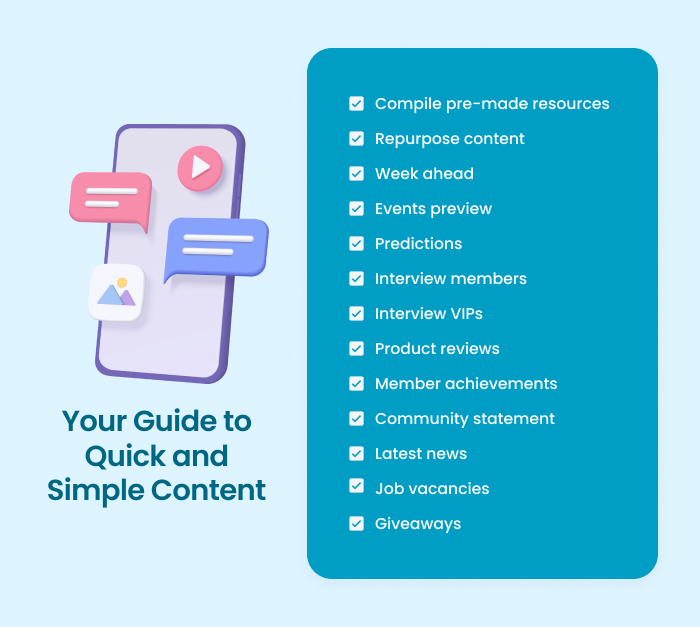 There's so much more you can do with the Library that doesn't involve writing essays or going out filming with a camera and a full crew and becoming a pro filmmaker overnight.
Here are some resources and content you can pull together in no time at all, yet still provide value for your members.
Compile pre-made resources
No matter what kind of community you create, having all the info your community needs in one place is going to be of value. Even just organizing resources to be found in one place can be a source of value.
Find your favorite videos and add in the links and descriptions, or find papers, blogs, and essays on your favorite topics and provide links to where your community can find them.
Repurpose content
Creating brand new content takes a lot of time, and even the top content creators repurpose old content to give it a fresh feel. Take a look at your favorite content and see how you can repurpose it to give it new life.
You can repurpose content by turning it into infographics, presentations, expanding on individual points, or even creating PDF documents as eBooks. Just make sure you're not copying, and always credit the original creator if you're repurposing someone else's work.
Canva is incredibly helpful when designing eBooks and presentations. It's free to use and they have this guide to help you create your own designs.
Event Summary
Creating a summary of your events is not only helpful for those who missed it! They also give your members (and you) a chance to revisit past events for information so that your event becomes a piece of value for your community. Create an event archive, and keep a record of all your events for posterity.
Week ahead
Create a post at the start of each week to drive hype for the upcoming week. Get your community members on the same page with a heads-up about the week's events and any releases planned.
Event's preview
Before releasing your event page, announce information about your event in pieces to create curiosity and anticipation. You can do this through an event's preview, where you can highlight one thing planned for your event.
Predictions
Invite your community members to speculate about the future of your industry. It's a great way to get people talking about something relevant and keep the chat active.
Interview members
Your community is a great source of information and you never know what your members have to offer until you ask! Spotlighting community members through interviews makes your community feel heard, and gives members a platform to express themselves. Pick a different community member each month and upload your interview to your Community Portal for your members to read.
Interview VIPs
If possible, reach out to prominent figures in your industry and ask them if they'd be open to an interview for your community.
Product reviews
Depending on your industry, product reviews are incredibly valuable for community members looking for guidance. Provide reviews on a range of relevant products, and be honest about your experiences with them. Encourage other community members to share their own reviews.
Member achievements
Highlight relevant achievements of community members for support, encouragement, and solidarity.
Community statement
If something controversial or significant happens in your industry, ask your community for input towards a community statement about the event.
Latest news
Share relevant industry news with your community. This can be in the form of a weekly announcement, in your community chat, or in a newsletter.
Job vacancies
Share any industry vacancies and job opportunities with your community, and encourage others to do the same.
Giveaways
Giveaways are great if done right and they're an awesome way to thank your community for their support.
Opinion pieces
Ask your members if they'd like to write an opinion piece on something in the industry they feel strongly about. This can be a monthly feature with a different writer each month.
Advice and support
Create a document with FAQs and advice for common issues in your industry. You can share it as a resource with your community.
Build a community with Nas.io
Nas.io integrates your chat platforms with an all-in-one community-building platform. Here, you can build a customized space for FREE where you can create opportunities for growth, connection and learning.
We are a platform directly committed to building functional, collaborative communities online for your brand. Whether you want to start a community for fashion, sports, writing, Web3, NFTs – anything – this is the place to start.
Reach out to our incredible support team and learn how to start your own community today. We'll be with you each step of the way.