Starbucks is the world's largest coffee chain and has stores in over 80 countries, with over 15,000 in the USA alone. 
The second wave of coffee culture is largely attributed to Starbucks, and the brand's identity is one of the most recognizable in the world. Even if Starbucks doesn't have a presence in your country, you probably instantly recognize their green mermaid logo — incidentally, the logo is a mythical 2-tailed siren from Italian mythology originating in the 7th century. 
Coffee culture and its extension of cafe culture is social by nature, and Starbucks has been creating communities since its beginnings. Recently they've taken more deliberate steps to build communities around their brand, and their initiatives reach across multiple groups, from disadvantaged areas to hosting talks for professionals. 
To this end, Starbucks recently announced that by 2030 it plans to open over 1,000 more dedicated Community Stores specifically for the purpose of building communities in their stores. 
At a glance 
Starbucks is involved in outreach in local communities. 

This outreach changes from location to location depending on the needs of local communities. 

Their physical stores are spaces for local communities to meet.

Their commitment to accessibility means they're challenging how they serve their community and customers. 

Starbucks provides free anti-bias education with their To Be Welcoming course which has over 80,000 online students.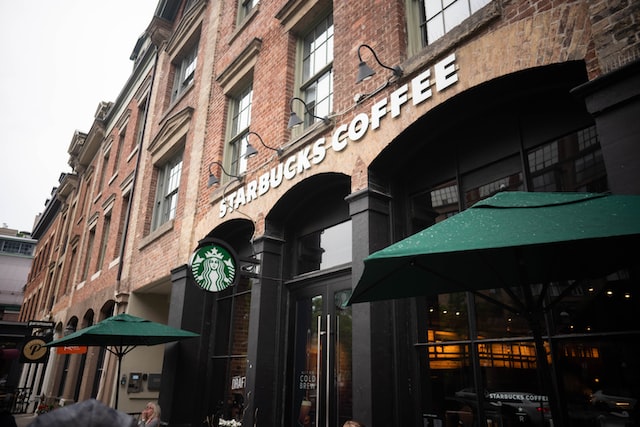 Strategy
Ever heard of the third place concept? The idea behind it is that the third place is apart from first (home) or second (office) places, but rather something in-between where people can hang out. 
Usually coffee shops, third places are wonderful spaces for locals to meet — think of emulating that Friends life. But businesses are taking the third space idea further with community events aimed at bringing together professionals. 
Starbucks is doing just that with their community drive, where they're opening new stores with the specific intent of serving communities. 
Called "community concept" stores, Starbucks plans to open thousands of locations all over the USA. Their strategy until this point has involved community outreach in rural and disadvantaged areas, including partnering with Measure of America (MoA) to use the Human Development Index to better understand how to implement impact in vulnerable communities in ways that are meaningful.
This includes accessibility for both their online site and physical store locations. 
In other countries, the stores host events for professionals as a way to transcend their brand from a product to serving their communities on a higher level by becoming a part of the community landscape. 
Starbucks hopes, in their words, to become a "People Positive" company, and their Community Stores will serve as a tool to help Starbucks better understand its communities and customers to set a new standard for inclusivity and accessibility. 
"Since our earliest days, we have worked to create a culture of warmth and belonging in our stores – a place where everyone is welcome… We know that the more we design for inclusion, to be welcoming and to strengthen our communities, the better our business will be and the better the Starbucks experience will be for our partners and customers. It inspires and motivates us to make our store and digital environments even more inclusive and accessible at every turn." – Katie Young, senior vice president of global growth and development
Third Space Development Series 
Starbucks' development into third spaces led them to creating the Third Space Development Series, which empowers their partners to create an atmosphere of belonging and welcome in Starbucks cafes. These cafes participate in Pour Over sessions, where discussions are streamed from the stores. 
Topics discussed in the modules include :
biases related to age

biases related to weight 

Invisible disabilities (such as multiple sclerosis and mental health) 

chronic fatigue and chronic pain

and bridging political divides through conversation
Starbucks reported that each Pour Over session averages 10,000 unique views.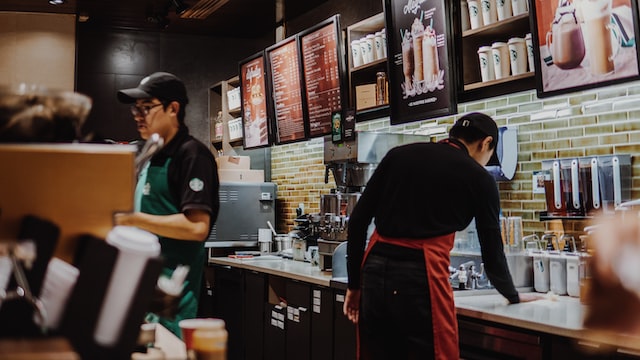 To Be Welcoming
This is an educational Starbucks initiative aimed at building a community culture that fosters a sense of belonging through anti-bias education. Originally only open to Starbucks' partners, in 2020 they opened this course to the general public free of charge. To Be Welcoming has over 87,000 students so far, and are currently working towards their target of 100,000 learners. Students enrolled include partners, customers, and members of their communities, and helps their communities engage with difficult topics through research-based content with an academic approach. 
Starbucks' Community Impact 
One of the key parts of their community building strategy is Starbucks' flexibility — taking into account local communities and their unique set of challenges and opportunities depending on the location of the store. 
Starbucks' community strategy primarily involves inclusion and accessibility, prioritizing making all parts of their local communities feel welcome through a combination of outreach, education, in-store and online events, and accessibility.
To achieve their goals of accessibility and inclusivity in their communities, Starbucks is implementing the following changes across their websites and physical stores. 
Speech-to-text technology for customers to reference when ordering in-store. 

Order progress notifications via a board that shows updates on customer orders and confirms when their order is ready. 

Creating more accessible physical and digital features using more inclusive design features. 
These are just some of the changes Starbucks is making in order to turn their stores into third spaces where locals want to spend their time with an overall positive impact. 
Lessons to Implement 
Starbucks' community drive is focused on locality and accessibility, meaning that their community efforts change depending on the situation. 
As a coffee shop, the needs of the stores have a baseline, such as creating a comfortable and welcoming space for their customers. Their community outreach is a layer on top of this, and changes depending on the needs of the local communities. 
What is consistent is their accessibility and education drive to help make their stores feel welcoming to all, no matter your physical needs. Their drive to improve and grow to accommodate their customers to make them feel welcome in their stores goes a long way to fostering the coffee culture they're known for. 
Want to build your community? Nas.io is the perfect place to start. We have all the tools you need to create an incredible community, just like Starbucks', and all the support your brand needs to start building right now.