Can your business afford a 40% decrease in ROI? In the next few years, Google will be cookieless and Apple's new privacy settings will impact ROI and ad spend as early as 2023. Influencer rates are up, and multiple brand deals put their ROI and commitment into question. You have to ask yourself if your business can survive that kind of hit. But the good news is that online B2B communities are also changing how marketing works, in ways that make marketing more intuitive, organic, and effective.
Online communities are the next step in marketing for brands, and recent data shows they're more effective than spending money on targeted ads. Think of flooding the internet with content about your brand that people want to watch — all without lifting a finger. And you can do just that with Nas.io.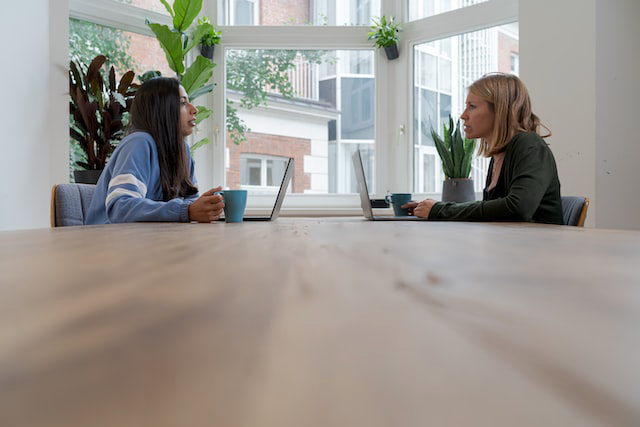 There are several ways your business can benefit from online communities. So let's dive into the various strategies you can use to make the most of online communities. 
User-Generated Content 
Communities gather because of a shared passion of a brand — whether that brand be a person, an idea, or a business. And those communities give you the opportunity to harness one of the most powerful marketing tools out there right now: user-generated content. 
UGC can take the form of product reviews, videos about your brand or products, photos, or even podcasts. This content is going to come from three main groups: customers, brand enthusiasts, and people working for you. 
So, why would people want to create content about your brand? 
Content creation has become a lucrative career path for those who are dedicated to their success in the field. But, as it's become more popular, it's also becoming incredibly competitive. UGC gives your brand content creators an edge as they have a wealth of content inspiration to draw from, as well as giving them reach if your official brand account shares their content. 
People love to share their stories and experiences with others. Users sharing their experiences with your product is an organic way to boost engagement and discover new audiences. And the best part is that it costs no money for you or your business.
UGC benefits your business because it's social proof, a recommendation, and marketing all rolled into one neat package. 
Why UGC Works
Here's the magic to UGC: 88% of people trust online reviews by other consumers as much as they trust recommendations from personal contacts. 
UGC turns your community into brand ambassadors. Having your users create content about your brand drives engagement for both you and your content creating users. It's about creating an army of brand advocates, all without spending a cent on ad expenses. 
UGC works. Brands like GoPro, Lego, Apple, Windows, Coca-Cola, and HubSpot all use UGC as the heart of their marketing strategy. But none of these companies have a home for their brand ambassadors — instead relying on social media hashtags to announce and organize their campaigns. 
And online communities are critical if you want to develop your UGC strategy. 
Having a dedicated platform for your online community gives you a wealth of options to nurture your user-base and turn them into dedicated content creators for your brand.
Think creating online courses, hosting virtual events, and having a dedicated space where your brand ambassadors can gather to discuss content creation, ask questions, and support each other. 
Online platforms like Nas.io allow you to do exactly this. Think of it as a private network where you get to communicate with and support your brand ambassadors in any way you can think of. 
And there are barriers to creating an online community just for your brand advocates, such as time and money. 
Platforms like Nas.io solve these issues by assigning a dedicated account manager and a community manager to your community, who organize live events such as workshops, fireside chats, meet and greets, and information sessions. 
They also offer support and advice for your community as they go on their content creation journey as ambassadors for your brand.  
Virtual Events 
Let's face it — when your community is based all over the world, in-person events just aren't practical.
While virtual events aren't the best way to host conferences and professional development, they have come a long way in recent years and they're a great option for those who want to connect with their communities and build engagement. We're past the point of pretending that virtual events aren't a real way to connect with others. 
There are so many different kinds of events that add value to your community. Here are just some of our favorites. 
Workshops 
Education is one of the most valuable services you can provide for your community of brand advocates, and teaching them the skills they need to create beautiful content about your brand and products is a strategy that helps you and them. 
Fireside Chats 
Not every event needs every minute planned, and fireside chats are a great way to discuss community matters in a more casual setting. These chats encourage community members who are usually quiet to speak up in an environment with less pressure. 
Q&As
Getting together to ask questions is a great way to get everyone on the same page. Q&As give your community a chance to figure things out and ask for clarification. It's also helpful to get feedback during these sessions to better the community experience.
Guest Speakers
Bring in experts from your industry to speak to your community. Not only does insight from an expert bring value, they can be an incredible source of inspiration for your community.
Nas.io 
Nas.io is a platform designed to host and manage communities. Many of the people behind Nas.io are content creators and understand what it means to have an online community that thrives, along with the barriers community founders face when trying to build one. 
We've been working in social media for a long time, and have discovered that the best part of social media are the communities that have been formed because of it. People are social and want to connect with others… And social media has been connecting people from all over the world since its invention. We want to contribute to this incredible space, and Nas.io is how we're doing it.
We're also giving you the tools to create your own community right here on Nas.io. We've pooled all our resources to give you the best community experience, all while drawing from the best features you want to use when connecting with others online.
If you already host your own community, we have something for you too! Our community tools integrate seamlessly with other platforms like Discord, so your community doesn't doesn't have to go anywhere… But your community experience will be made even better with what we offer.
We run your community from end-to-end and provide all the tech you need to scale your community. Nas.io gives you a single home for your advocates — this is where your community will get all the information and education they need to create content about your brand. 
And if you want to create content just for your brand ambassadors, we give you the tools to do that with our native course builder and content creation tools. Curate educational content for your ambassadors so they become experts at spreading your story. 
Community Operations with Nas.io 
Host your community on Nas.io and you'll get an expert community manager who will run your community for you from top to bottom. You won't have to spend any more time or resources than you have to on your community operations, so you can focus on building your brand. 
Here are just some of the services we offer you should you choose to host your brand community with us. 
Access to a Community on a Dedicated Platform
Your community will be hosted on Discord where you can chat, make friends, and learn from one another. Day-to-day operations will be managed by a community manager, who will facilitate discussions, chat to community members, and make sure everything is running smoothly. 
Monthly Live Events
Our community managers will help you connect with your ambassadors by organizing monthly live events, giving them the opportunity to participate in workshops, Q&As, challenges, mentorship sessions, and hear from guest speakers. 
Event Recordings
Missed an event? We record everything so your community can watch important meetings and talks in their own time – no sweat.
Community Management
Your community manager will moderate discussions in your chat and give you all the support you need! They also go above and beyond simple moderation and will offer your ambassadors incentives such as: 
Award points for posting a picture or writing a review.

Involve creators in ads, promotions and events.

Send giveaways, merchandise and free products.

Provide early product access, testing and feedback.

Offer discounts, exclusive offers and coupons.

Deliver personalized Thank You notes.
Analytics
Our analytics gives you the data you need on your community, including data on the engagement and participation of your community members. Our Community Builders are on hand to help you deep-dive into the numbers and give advice on how you can improve your numbers. 
Newsletters
Get curated news and updates relevant to your community sent right to your members' email inbox.
Library of Lessons and PDF Resources
Access a library of resources to educate and upskill your community members.
As online communities grow beyond traditional social media platforms, it's essential to take part in the new and exciting innovations they offer, especially when it comes to your relationship with your customers. We hope this gives you some insight into new trends and the potential of using online communities to engage with your audiences.